Is it Fenton or Tiffin?
by Fred Bickenheuser
Glass Review - December 1979
I know all of you have read stories of coincidence before; but until it actually happens to you, they are just stories. The following is true.
I was at Richardson Printing Co., in Marietta, Ohio, unpacking pieces of glassware which was to be photographed for my new book Tiffin Glassmasters. The menagerie photo was going to be quite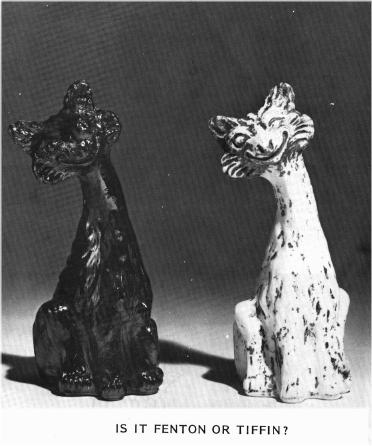 interesting as I had borrowed a number of Tiffin animals from different persons around the country. The ooh's and ah's were coming regularly from Dave Richardson and his photographer as these gems from the past were being unpacked. The last piece was a large white milk glass cat. An eerie silence fell over the studio; and as I looked at my two companions, they froze in their tracks and stared in bewilderment at the cat. I knew something was wrong, as they both looked as if they had seen a ghost from the past. After a few moments they both explained that they had photographed what they thought was the same cat for the Fenton Glass Co. on the previous day. Still dumbfounded, they scurried to find the Fenton piece. A close examination of the two glass cats indicated without a doubt that they had been produced from the same die. But how could this be; I knew the cat I had brought into the studio was made at Tiffin Glass, Tiffin, Ohio, in the 1930's. The only real difference was that the Fenton cat was made from blue glass with an iridescent finish. An immediate phone call was placed to Frank Fenton and the mystery began to unfold.
According to Frank, the cat mold was purchased from the Tiffin Glass Co. around 1960. It was in Fenton's regular production from July 1970 to January 1973, in a blue-green iridescent glass. Production of the cat was once again planned for 1980 in Fenton's Colonial blue with iridescent finish for a private customer. Frank went on to explain that all of the Fenton pieces had been and would be marked; and the cat would not be made in either white milk glass or black with a satin finish, the original colors produced by Tiffin.
The cat mold and others were designed by the master designer Reuben Haley and his son Kenneth in the 1900's. A search of the old mold inventories of the U. S. Glass Co. indicates the mold was kept at Tiffin and for a short time at their Glassport, Pa., plant. As you might recall, this was during the period when both factories were a part of the U. S. Glass Co.
As I have mentioned before,the cat was originally produced in white milk glass and black glass with a satin sheen finish. This particular satin finish is characteristic of TIFFIN glass only and was used on many of their items during the Depression Era of 1929-1941.
Both cats are 11" high; and if you have one in either white milk glass or black with a satin finish, you own a TIFFIN glass animal.
There are "OTHERS" shown in my new book Tiffin Glassmasters. Happy hunting!