Fostoria's Menagerie
by Ann Kerr
Glass Review - September 1979
Figurine collectors have not neglected the importance of Fostoria's contribution to their interest. Last month we looked at the large figurines and now I would like you to join me in a tour of the Fostoria menagerie.
The small animals of the long production period of Fostoria are a lovely group. They came somewhat late in the company's history, being first introduced in the 1930s. This early group was not long lived,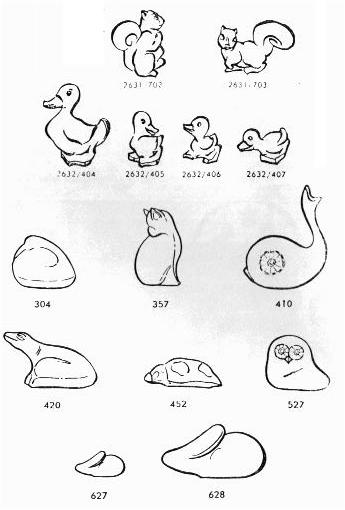 disappearing in 1944. Others were to follow and we would do well to acquaint ourselves with this small number for they are gaining in popularity.
The miniature Penguin, a shade under 6" in length, stands upright on a small base, as do all the members of this early group. You will find it in crystal and will notice a solid unexpected heavy feel to it, as is true with the others.
Not much larger and also standing is the Pelican. This smell bird is about 4" tall and 4½" long. Once recognized, he is certain to not be mistaken in identity. The Pelican is different from the other Fostoria animals in the detail shown on the feathers and body as it is more pronounced.
The Polar Bear is similarly sized, 4 5/8" high and 4" in length This is a particularly lovely piece.
Somewhat similar is the Seal. Almost as tall as he is high, 3 7/8" high and 3¾" long, this is another easily recognized Fostoria figurine.
More likely to be confused with animals of other manufacturers is the Colt. Certainly there are strong differences, but the Colt was a favorite subject and many glass companies had their own version. Fostoria made both the standing and resting Colts. The tiny standing Colt was only 2½" in length and 3 7/8" high. He is a slightly detailed beauty. The companion piece, a resting Colt is even smaller - 2¼" high by 2¾" long.
A standing and resting Deer complete this early line. The Deer was also a favorite subject with many glass companies and we will do well not to confuse them. The small 4" by 2" standing Deer is a study in grace and has appeal for any figurine collector. The resting Deer is smaller 2" by 2¾" and is equally lovely. Both these Deer were available for a short period in the 1950s in milk glass and at that time a Chicken was also made in milk glass.
Any of this early group is a prize if you are fortunate enough to find it to add to your collection. They are not as plentiful as may be thought and most have already found their way into collections. Do remember that in addition to the features pointed out here, one must always associate the base of the animal as a distinctive Fostoria feature.
After a short period of time, other small figures were produced. These will be found without a base and will be found in clear colors as well as Silver Mist, which is a frosted look. Amber, olive green and cobalt were used in a sitting and standing Squirrel set. Less realistic and formal than the first group, these Squirrels are both about 3" high.
A Duck family joined them and was made in the same colors. A Mama Duck and three Ducklings form this group. Mama was 4" high and the babies, each in a different stance are from 1½" to 2½".
To this production was added a group in an entirely different concept in design in 1971. This latest group is extremely modern in design, and it is almost difficult to recognize some of the tiny figures. Less realistic features and with fluid lines, they are almost globular. These include a Stork, Cat, Dolphin, Frog, Lady Bug, Owl and a small Rabbit family. You will find these in Crystal, Lemon and Olive Green, sometimes with the Silver Mist and sometimes with the colors frosted. These are all lovely and still affordable. None of these are found in company catalogues after 1973, and we must assume that these, also, will be of interest to collectors soon.