Provincial by Imperial
by Virginia Scott
Glass Review - September 1979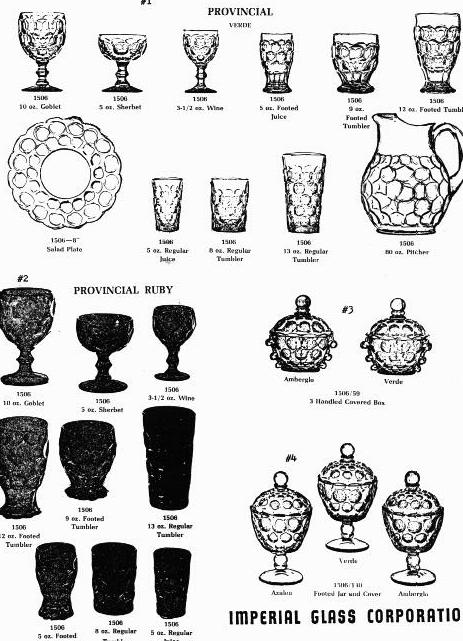 "Provincial" as made by Imperial is the reissue of an A. H. Heisey & Co. glass pattern. The pattern was originally called "Whirlpool" when it was introduced by Heisey about 1938. The name was changed to "Provincial" about 1952. Imperial has continued to produce some items in "Provincial" since they acquired the Heisey molds. I have several 1970s Imperial catalogs and will attempt to bring their "Provincial" production up to date.
The 1971 Imperial catalog shows no "Provincial" items in crystal, however, some "Provincial" was made in colors.
At the top of our illustration page (end of article) is the complete issue of "Provincial" which was made in "Verde." Verde is a grayed shade of green which is quite often called "Avocado." Three styles of drinking pieces, stemmed pieces, footed tumblers and flat tumblers were made. In addition to these, an 80 oz. Pitcher and the 8" salad plate were offered.
On another page in the 1971 catalog, I found "Provincial Ruby." Only drinking pieces were offered in Ruby. The complete issue is shown at bottom left. I am sorry that the ruby color would not copy well, but the illustration will give you the shapes and sizes. Imperial's Ruby is a rather bright red rather than the darker ruby that is known as "Royal Ruby."
Other pages of the 1971 catalog show the pieces shown in No. 3 and No. 4. (lower right). The 3-handled covered box (No. 3) was offered in two colors: "Verde" and "Amberglo," a nice shade of amber. The footed Candy Jar (No.4) was produced that year in "Verde," "Amberglo" and "Azalea," a rosy shade of pink which, in the catalog, is very attractive.
I have several Imperial catalogs from the late 1970s, 1975 through 1979. The following will bring the Imperial "Provincial" issue up to the present:
| Year(s) | Status of Provincial |
| --- | --- |
| 1975-76: | No "Provincial" is shown. |
| 1977: | "Provincial" glasses are shown in four colors: "Nut Brown," "Verde," "Sunshine Yellow" and "Ultra Blue." Only four items were offered; 9 oz. stemmed goblet and 5 oz. stemmed dessert; 8 oz. and 13 oz. flat tumblers. |
| 1978: | "Provincial" was offered in the same four colors and pieces as 1977. A l3oz. stemmed goblet and an 80 oz, pitcher were also offered. |
| 1979: | The three stemmed pieces, 9 oz. and 13 oz. goblets and 5 oz. dessert are again offered in the same four colors as 1977 and 1978. Only the 13 oz. flat tumbler is shown. The 80 oz. pitcher and 8 oz. tumbler were discontinued. |