Silver on Glass
by Roserita Ziegler
Glass Review - February 1979
During the year 1906, Curtiss and Lucien Rockwell spent months experimenting in Meriden, Connecticut, perfecting a formula for silver depositware. Satisfied that they had a marketable product, the brothers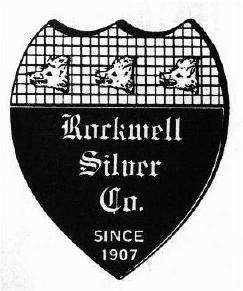 incorporated in 1907. Their letterhead would read "The Rockwell Silver Company - Silver Deposit Manufacturers, Decorators of Glassware and China." The "Rockwell" trademark earned the respect of the trade as they were pledged to the policy of producing an artistic and harmonious product. The firm has been a leader in the production of depositware since its beginning seventy-two years ago.
At first, original art designs were hand painted on the glass using the secret silver formula. Later, designs were engraved on steel plates and transferred by hand to tissue which was applied to the glass, moistened and then peeled off. The glass or china would then be fired at 1000 degrees. Improper firing would result in the peeling off of the deposit. In order to cut costs and increase production, the silver formula was eventually adapted to the silk screen process; that and electroplating increased output by 100%.
The Rockwell Company purchased glass from the following American companies: Duncan and Miller, Heisey, Jeanette, Federal Glass,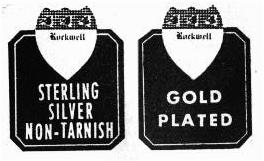 Fostoria, Colonial Glass, Imperial, Cambridge, Indiana, Viking and Pairpoint. Their depositware can also be found on Lenox and Johnson china.
Besides decorating with silver and gold, Rockwell also decorated glass blanks with cuttings and hand painted luster colors.
An acid etch stamp with the Rockwell Crest, three boars' heads and the words "Rockwell Company" was used to mark Rockwell depositware from 1920 to 1968 (above, left). Paper labels were also used, examples are shown at right. Since the acid signature was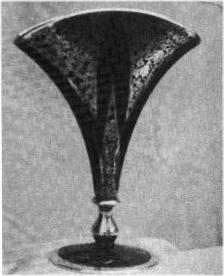 applied directly to the glass, many people incorrectly conclude that the glass was made by Rockwell.
In the early nineteen hundreds, the cost of silver was so low that the company would break and discard the seconds. There are several ways to date a piece of glass decorated with silver depositware. Early designs were much more intricate and covered more of the glass than later pieces. As the cost of silver increased, the thickness of the overlay decreased. The student of glass can approximate the age by the glass pattern.
Part of the challenge of collecting Rockwell pieces is in identifying the glass manufacturer. Rockwell decorated, signed and marketed under their name and no reference to the glass manufacturer will be found in their catalogues. The black fan vase shown at left, for instance, was purchased from Fostoria and can be found on page 219 of Hazel M. Weatherman's book, Fostoria - Its First Fifty Years.
A hint in cleaning your overlay pieces: Rhodium plated finish has been used for years to prevent tarnishing. An occasional washing in warm water and common soap will insure lasting beauty and resistance to any tarnishing. Silver polish should not be used!