Libbey Hostess Sets
by Virginia Scott
Glass Review - January 1979
Through the years, the basic business of the Libbey Glass Company has been the making of glass tumblers for home, hotel and restaurants. In 1907, Libbey adapted their Westlake Machine, an automatic machine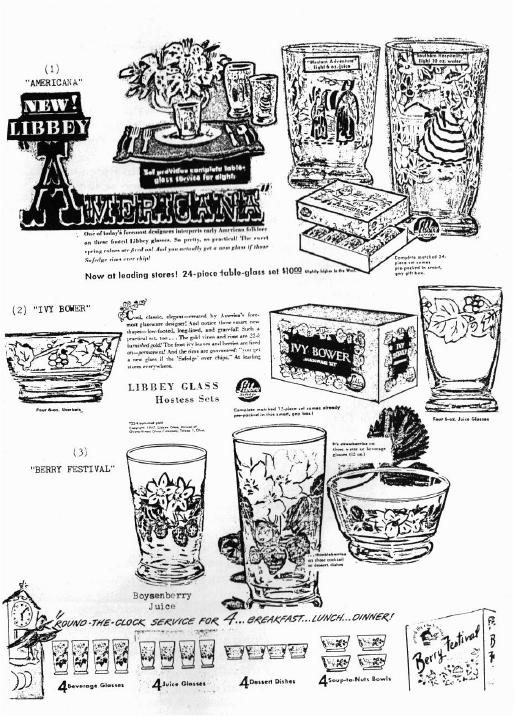 for blowing electric light bulbs, for use in manufacturing glass tumblers. Libbey could now produce large quantities of tumblers at low cost, putting high quality glasses within reach of most consumers.
Heat-Treated Glass was developed by Libbey in the late 1930s. A special process for re-heating and quick cooling gives the heat-treated glasses from three to five times greater life than ordinary glassware. About the same time, Libbey pioneered in the development of a process for applying permanent colored decorations to glassware. In this process, the applied colors are fired and fused to the glass.
In 1942, Libbey began to pack many lines of table glassware in attractive gift boxes which they labeled "Hostess Sets." As well as I am able to establish from my examination of many magazines of the time, ads for "Hostess Sets" began to appear in leading magazines in late 1945. From that time, Libbey ads came out at the rate of three to five a year. These ads were usually full-page and in color. There are so many Libbey ads that it will be impossible to show and discuss more than a small sampling of the patterns that have been advertised. In my next several articles, I will try to show the basic shapes of glasses and stemware and as many as possible of the patterns that I have found.
The illustration at the end of this article shows parts of three late 1940s ads. The shape of the glasses shown is one of the earliest "Hostess Sets" shapes advertised. No. 1, a 1947 ad, shows "Americana" pattern which, the ad states, was designed by "one of today's foremost designers" and "interprets early American folklore." A 24-piece set of "Americana" sold for $10 and consisted of eight each 14-oz. beverage glasses with "New England Tradition" design, 10-oz. water glasses with "Southern Hospitality" design and 6-oz. juice glasses with "Western Adventure" design.
"Ivy Bower," No. 2, is another 1947 decoration on the same glass shapes. "Cool, classic, elegant" the ad declares. "The gold vines and rims are 22-kt. burnished gold! The frost ivy leaves and berries are fired on-permanent! And the rims are guaranteed: You get a new glass if the 'Safedge' ever chips." "Ivy Bower" came in a 12-piece set which consisted of four each 6-oz. juice glasses, 12-oz. beverage glasses and 6-oz. dessert glasses and sold for $3.95.
"Berry Festival" design is shown in No.3. A 16-piece "Hostess Set" sold for $5 in 1947 and had four each 12-oz. beverage glasses decorated with strawberries; 6 oz. juice glasses with boysenberries; soup-to-nuts dishes with raspberries; and dessert dishes with thimbleberries. (Ads are reproduced with permission of Libbey Glass Division, Owens-Illinois, Inc., Toledo, Ohio.)