Cambridge Japonica
Joy McFadden, Frank & Vicki Wollenhaupt
Glass Review - October 1978
A. J. Bennett, the first president of the Cambridge Glass Company, seemed to be intrigued by the Oriental theme. This is apparent due to the Oriental figures (Geisha and Buddha), the "Blue Willow" and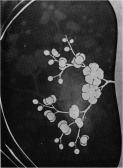 "Dragon" etchings, and the Temple Jar console set, all of which were produced by The Cambridge Glass Company. Probably the rarest of the Cambridge items with the Oriental theme is Japonica. As defined in the dictionary, "Camellia japonica is a woody plant native to Asia, having glossy evergreen leaves and white, pink, red or varigated waxy roselike flowers."
Cambridge Japonica is a white enamel floral decoration which has been seen applied to urns, vases, bowls, plates and candlesticks. Japonica has no birds, butterflies, or other animals incorporated into the design (see detail photo at right). Colors which this treatment has been seen on are Carmen, Royal Blue, Amethyst, and Forest (dark) Green, all of which are transparent colors. One side of the item will have a satin finish which tends to mute the color and enhance the decoration.
The decoration itself appears to have been applied with the silk screen process and then most likely hand finished. An educated opinion dates this treatment in the early to mid-thirties, because the majority of the items which have the Japonica decoration can be found in the 1930-1934 N.C.C. Catalog Reprint. The Japonica decoration itself has not been seen in any known Cambridge catalog, nor has any information about this decoration been found in any trade journals.
The authors have seen Japonica on the following shapes (The page numbers refer to the National Cambridge Collectors Catalog Reprint 1930-1934):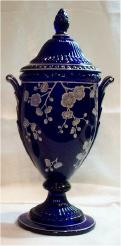 Page
Number
Item
Number
Item
Description
Page
Number
Item
Number
Item
Description
51
278
11" Vase
31-11
1228
9" Oval Vase
31-11
1240
12" Oval Bowl
31-11
779
14" Vase
31-12
3400/4
12" 4 toed Bowl
31-15
1305
10" Vase
32-7
3400/102
5" Globe Jar
32-8
1307
Candelabra (3 lite)
337
3400/93
5½" Ivy Ball
33-15
3500/45
10" Footed Vase
33-15
3500/41
10" Urn or Candy Jar
33-15
3500/42
12" Urn
33-19
628
3½" Candlestick
33-31
1299
11" Vase
33-31
1301
10" Vase
The signature (shown above left, at the beginning of this article), which is not found on every item, is applied in a white enamel, the same as the floral decoration
If anyone has additional information concerning Cambridge Japonica, the authors would appreciate hearing from you.