J. Pressman's Akro
by Roni Sionakides
Glass Review - September 1978
The J. Pressman Corp. was located in Brooklyn and like the other large toy firms in New York, F.A.O. Schwartz and Georg Borgfeldt, had many companies produce toys for their store. During the war years - the mid 1940s - they contracted with Akro Agate to produce glassware that was to bear their name on the finished product.
Photo No. 1 shows a pastry set in the original box marked J. Pressman on the cover. It contains two almost transparent dark green mixing bowls, rims are opalescent and a very opaque olive green casserole and lid. The pieces in front of the box are from left to right: the familiar Chiquita; cup on far left is the same green with opalescent rim as the mixing bowls; transparent "Plain Jane" sugar and cup; Panelled "Plain Jane" cup (only found in cobalt blue}. Fired on "Plain Jane" pieces include: cup/saucer, plate, bowl, teapot/lid, sugar/lid, creamer. Paneled "Plain Jane" pieces include: cup/saucer, plate. To date, no service pieces have shown up.
Photo No. 2 shows a Tiddledy Winks set with a blue transparent glass bowl; a sample of marbles all with the same colors and poor quality associated with J. Pressman pieces; a close up of the mixing bowl and casserole from the pastry set.
Photos No. 3 and No. 4 are a special surprise. This is an almost complete boxed set of "Plain Jane" in transparent green.
Photo No.5 shows a demitasse cup and saucer. This was packed six to a box and labeled as a tea service for six. The little bowl is larger then the one in the tiddledy winks set and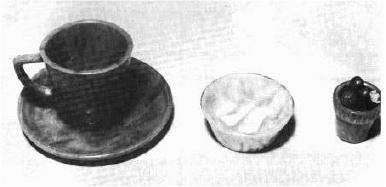 may also have come from a game set. The pot is not a J. Pressman piece although manufactured with the same poor quality. It is marked Braun and Corwin on the bottom. This piece is green and I have seen one in the collection of my photographer that is blue and grey.
J. Pressman had many of their pieces marked with J.P. on the bottom. Almost all the pieces in the tea sets are marked except "Panelled Plain Jane." The pastry set is not marked, the Tiddledy Winks bowl is not marked, the demitasse is not marked, but the odd bowl is marked. No set rules on marking seemed to exist.
The J. Pressman Corp is no longer in business and has not been listed in the Thomas Register since 1948.
NOTE: Names in quotation marks are collector names. Photos No. 1 & 2 by Jesse Arnet. All other photos by Bill McIlrath. All pieces are from my collection except photos 3 & 4 which are from the collection of Nadine Pankow of Illinois.