Fenton's Nymphs
by Roni Sionakides
Glass Review - May 1978
All of the photos are of the little Fenton figural nymph. From tip of her head to bottom of her base she is only 6¼" tall. Made in the late 1920's she was No. 1645 - the September Morn Nymph.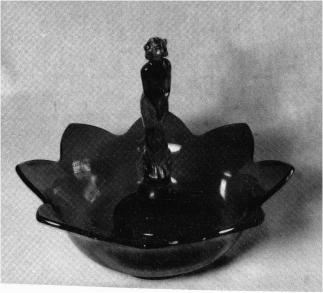 One feature stands out above all others that makes her a very unique figural - she has a base that fits nicely into a candleholder or her own special flower frog or bowl. She is available in all the colors produced by Fenton in the 1920's and 1930's.
The photo at right is all cobalt blue. This is a common setting - figural, frog, bowl, all matching.
Photo No. 2 is ebony. Same format as above but different bowl.
Photo No. 3 is transparent green. This bowl has a special candleholder for the little nymph.
Photo No. 4 is white jade or clambroth. Bowl and frog are green jade. This bowl style and also the flared variation in Photo No. 1 are referred to as Lotus bowls. These are the most common bowls the nymph will be found in.
Photo No. 5 is transparent pink. This frog is larger than the usual frog and I believe it is not a Fenton frog. But as a substitute it is adequate since the center hole will hold a candlestick. The bowl has a lovely lacey gold trim.
I have found the nymph in a dolphin bowl and in the following colors: yellow jade, azurite jade, ice blue, clear, purple jade, white milk (not clambroth), and ivory. I have heard of an opalescent nymph.
Note: I am using the term jade to indicate a pearly opaque glass.
| | |
| --- | --- |
| Photo 2 - Ebony Nymph and Bowl | Photo 3 - Transparent green Nymph and Bowl |
| Photo 4 - White Nymph with Jade Bowl | Photo 5 - Transparent Pink Nymph and Bowl |