Removing the Diamond-H
by Leonard Padgett
Glass Review - February 1978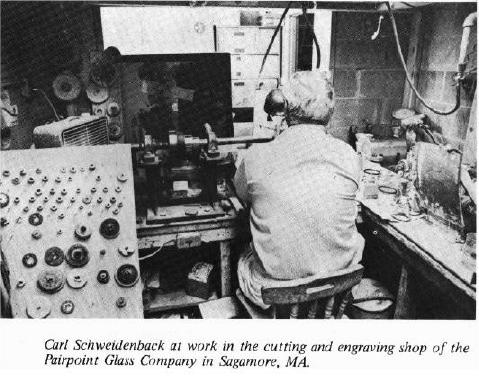 Remove the "diamond H" from a piece of glass! Who would do such a thing? Unfortunately, back in the 1920's, the Watson Company of Attleboro, Massachusetts, did just this. The company purchased Heisey glass and had the now famous "diamond H" trademark ground off and then had new designs cut and engraved on the glass.
Carl Schweidenback tells the story like this.
"At the age of 14 years I went to work for the Watson Company. I worked after school until dinner and during my summer vacations. My pay was 35¢ an hour. My job was to ground the "diamond H" trademark off the glass. I worked mostly on plates and candy jars. It only took ten minutes to remove the trademark which included smoothing and polishing the piece of glass. After I completed my job, a journeyman would then cut or engrave a design on the piece of glass."
I asked Carl how many trademarks he removed while working at Watson. His answer was "hundreds." Carl also told me that he felt that Heisey made an excellent grade of glass and that was probably why the company had chosen Heisey glass. After these pieces were completed, they were sold for "handmade glass." He laughed as he said:
"How times change. It was the rage at that time to remove the trademark because the piece of glass would be worth more without it. Yet today, the glass is worth much more if it has the trademark."
Carl Schweidenback worked for Watson for three years. Like his father, who was also a glass cutter, he worked for Pairpoint in New Bedford, Massachusetts, and it was there that he finished his apprenticeship. During his beginning years at Pairpoint his wages were 55¢ an hour. After working at Pairpoint for a number of years he went to Silver City in Meriden, Connecticut. Today you can see Carl engraving glass at the Pairpoint Glass Company in Sagamore, Massachusetts.