Steuben Glass
by Orva Heissenbuttel
Rainbow Review Glass Journal - November 1977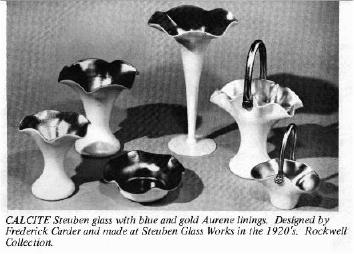 Eventually the serious glass collector comes to appreciate all types of glass, but there is always one that retains one's special admiration. For me, it has always been Steuben Glass, of the Carder Period. When I organized a new chapter of the National Early American Glass Club, I suggested the name of Steuben for the new chapter and later we conferred honorary membership on Smithsonian curator (now Curator emeritus, `since his retirement) Paul Gardner, author of the comprehensive, beautiful book on Steuben: The Glass of Frederick Carder. Here is a brief resume of Steuben's long history of artistic achievement in glassmaking.
STEUBEN GLASS
Steuben - America's best known glass - is a product of two basic periods of manufacture, each completely different, but each remarkable in the annals of glass history. Collectors of Steuben glass may collect from the Carder period (1903-32), the Houghton period (1933-73), or current production. Both the Carder and Houghton periods have made lasting contributions to the history of design and glassmaking. The company is now in its third period under the presidency of Thomas Buechner, and may take still another direction while continuing to excel in the design and making of fine glass.
The Steuben Glass Works was founded in Corning, Nest York in 1903 by Frederick Carder, a native of Staffordshire, England, and Thomas G. Hawkes of the noted Corning cut glass firm. Hawkes had previously purchased his blanks from various glass Companies, but needed a nearby source which would produce blanks of consistent quality. Mr. Carder had been associated with the Stevens & Williams Company in England for more than 20 years, and his guiding genius was at the helm of the Steuben firm for nearly 30 years.
Carder had a superb technical mastery of the glass medium and experimented continually. Within a year of his coming to America, Carder successfully completed his art glass experiments and registered his gold metallic luster glass in the U.S. Patent Office as "Aurene". A year later he introduced Blue Aurene, and both were produced in considerable quantity during most of the Carder years. His Aurene glass was introduced to a glass market already dominated by Tiffany's "Favrile" glass, which had already established a reputation that challenged the Art Noveau imports of Galle and other French and European glass competitors.
Ancient glass making techniques were also revived by Carder, notably Millefiori, known as "thousand flowers," as well as threaded and hooked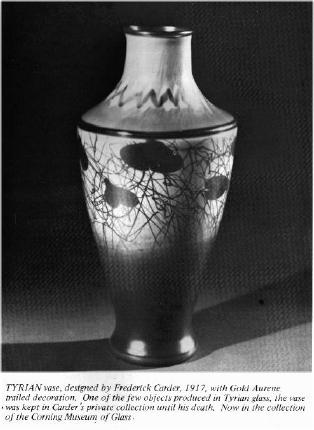 decorations in Egyptian style. Fine engraved, cut, and acid-etched glass was also produced at Steuben under Carder's direction, the latter particularly beautiful when combined with opaque and Aurene glass. The acid-etched (also known as acid cut-back) pieces were done in both Art Noveau and Art Deco designs as well as classical oriental designs.
Mr. Carder considered Intarsia glass one of his greatest achievements, and this was the only glass to be signed by him (with a facsimile signature "Fred'k Carder") at the time it was made. In later years Mr. Carder signed pieces with an engraving tool with a bold signature upon the request of collectors. The Intarsia, Cintra, Cluthra and Moss Agate pieces had a transparent glass casing which highlighted the various design features and colors of these decorative wares.
Not only did the early years of Steuben coincide with the peak years of Art Noveau, but it was also the "brilliant period" of cut glass. Steuben produced both ornamental and cut glass tableware in considerable quantities, then switched to engraved decoration when this style went out of fashion. Elaborate table services were also made, many designed exclusively for individual customers. In all, Carder was responsible for producing more than 100 colors and 8000 forms designed and made at the Steuben works until 1932.
The Steuben Glass Works became the Steuben Division of Corning Glass Works in 1918 and Carder stayed on as director until 1932, then he became Art Director, a position he held until his retirement in 1959 at age 96. He remained active until his death in Corning at the age of 100, leaving behind a legacy of beautiful glass which has never been surpassed, and seldom equalled.
The glass made during the Carder period is usually referred to as the colored period of Steuben glass (although both clear and colored was made) since all colored glass production ceased in 1932. Only clear glass has been made since 1933. Although much of the glass of the Carder period was marked with various trademarks, unfortunately for collectors, much of it was sold only with a paper label. The common mark was the "fleur-de-lis" mark which was acid-etched, but there are several marks which have been faked to the consternation of novice collectors and dealers.
The Houghton period of Steuben glass began in 1933 when the directors of the Corning Glass Works were considering liquidation of the company's Steuben Division. Arthur A. Houghton Jr., great grandson of Corning's founder and youngest member of the Corning Board of Directors, went before his fellow Directors and asked that he be put in charge of the Steuben Division. In the autumn of l933, Steuben Glass, Inc., was formed as a new company and with Houghton as director the company took a new direction.
Houghton, along with Sidney Waugh and John M. Gates, planned a new approach to the production of Steuben glass, that of making only pure crystal glass. His new "Trilogy" philosophy stressed material, workmanship and design, with all three given equal prominence.
Steuben's new pure crystal glass was the result of over 50,000 different formulations of lead crystal. Finally a chemical formula was discovered in 1932 which produced crystal glass of matchless purity, and within a short time it came to be regarded on the international market as "the" American glass, a position of prestige which it still enjoys today. Steuben became the rival of such highly regarded European glass houses as Lalique and Baccarat of France, Lobmeyer of Austria, and 0rrefors of Sweden.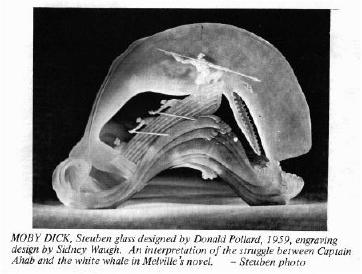 Houghton and his designers dramatically changed the face of the Steuben company. The glass became less functional, and ornamental glass - unique or limited edition pieces - soon took precedence, all of it in brilliant, flawless crystal. Working with transparent crystal presents a challenge to both artist and craftsman, for fine quality glass alone is not enough to insure a superior product, since it offers both opportunities and limitations.
The tradition of giving presentation pieces of Steuben glass began with the "Merry-Go~Round-Bowl" given to the then Princess Elizabeth (now Queen Elizabeth II) on the occasion of her marriage in 1947 to Prince Phillip by President and Mrs. Truman, This tradition was continued by President Eisenhower (who became a collector himself) and other presidents who have continued to give Steuben glass as gifts of state.
Paul Gardner's book on The Glass of Frederick Carder is about the Carder era of Steuben glass. It was published by Crown in 1971; now in its second edition, it is well worth $20. Examples of Steuben glass may be seen at the Corning Museum of Glass in Corning, New York, and other major museums. This year's major exhibition at Corning was "Cut and Engraved Glass" and was the subject of their 15th annual seminar on glass held at the Glass Center October 6-8.