Fantastic Figurines from Reuben & Kenneth R. Haley
by Mary Van Pelt
Rainbow Review Glass Journal - January 1977
The early part of the century was perhaps one of the most prolific eras for the designs and creations of Reuben and Kenneth Haley. In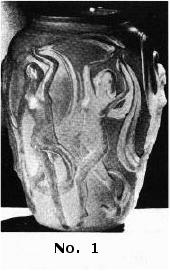 1923, U.S. Glass was sold to the control of a steel mill by Mr. Bryce, then president (and brother of the other Bryces in Mt. Pleasant.) Reuben was offered, but refused, the presidency and resigned to set up a consultant service with offices and shop in Coraopolis, PA, at the Consolidated Lamp and Glass Company. Here, for a short time, his son Kenneth worked under his tutelage before joining the technical service of the Glass Machine Division in Cleveland, from where he went to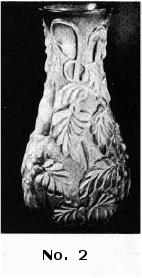 Phoenix, at Monaca, Pa. as designer and development engineer. It was at this time that Reuben also did a fantastic line of designs for the Gill Caly Pottery Company of Muncie, IN.
From the minds of Reuben and Kenneth, the designs of nature and figurals poured forth to be utilized on the beautiful vases produced by Consolidated, one of the finest glass works of that period. Photo No. 1 (at left) is the Dancing Girl vase originally modeled while Kenneth was with his father, but not produced and marketed by Consolidated until after Reuben's death by Kenneth. Although designed earlier, it was produced in 1927, becoming a part of Kenneth's line he named REUBEN, in honor and memory of his father. It came in colors of brown honey, cocoa gold, shadow tan and gold. The cameo decoration was white and pink. In 1933, Phoenix produced it but discontinued it in 1948. In the late 60s, Ken had Phoenix reproduce it for him to market through his own K. R. Haley Glassware Co., Inc., of Greensburg. Pa.
Photo No. 2 (at right) is Ken's Philodendron design, circa 1930. Phoenix produced it in 1931 in colors of green, shadow green and honey. 1939 saw it discontinued until it was re-introduced by the K. R. Haley Glassware Co., in 1948. Once more it was withdrawn from production. In 1976, Phoenix began reproducing it once more.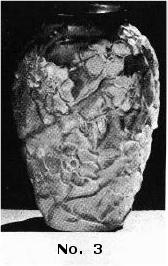 Photo No. 3 (left) is the Wild Rose pattern, designed by Reuben in 1925. It was produced by Consolidated in lilac and green-rose. This design was revived by Phoenix in 1933 and again by the K. R. Haley Glassware Co., in 1948, to be discontinued about 1952.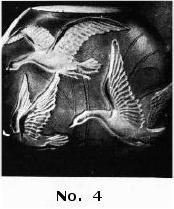 Photo No. 4 (at right) is the Wild Geese vase, designed by Kenneth, circa 1931 and produced by Phoenix in green shadow. Ken had Phoenix reproduce them in 1948 in green shadow, with 1970 seeing Phoenix producing them again in green and tan cameo.
The Dancing Girl vase molds were acquired by Kenneth from Consolidated for the Phoenix Glass Co., from 1928 to 1934, the years he worked for them. Kenneth had an official contract to designate this particular vase as a part of his REUBEN line, together with the Wild Rose vase. All these vases, hand blown and exquisitely modeled relief designs are erroneously becoming labeled as Phoenix designs and creations. While Phoenix has reproduced them, few know these go back before Phoenix made them, to another company and earlier time. Happy Collecting!