Duncan & Miller's "Canterbury" Pattern
by Gail Krause
Rainbow Review Glass Journal - December 1976
This pattern was designed to blend with the modern trends of every day living and was also adaptable with old world formality and universal usage. It was all handmade ware as well as being flame polished. The clear flowing lines, flawless beauty and the simplicity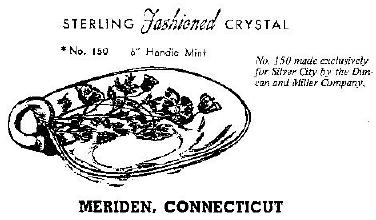 of this ware made it one of the most popular blanks used by Duncan & Miller. The lead blown stemware was No. 5115, while the regular line was No. 115.
This pattern was designed during the second World War when there was a shortage of fine crystal, as well as other items. The Duncan and Miller Company had always encouraged their men to try new ideas and it was during this time in the early forties that this pattern was first introduced and was received with flying colors.
It was used for a complete line of dinnerware consisting of water goblets, wines, sherbets, juices, tumblers, plates of different sizes, cups and saucers, as well as nappies, relishes and many useful articles. They also made large flower vases in 8½" and 10" sizes which were hand-formed to resemble a four leaf clover and was called the "Clover Leaf."
Canterbury was also used for a base for different etchings such as "Adoration," "Charmaine Rose," "First Love," "Language of Flowers," "Passion Flower" and "Remembrance."
Many items were also produced in pink and blue opalescence. Some are as follows:
6" and 9" 2-handled nappy
6" and 9" 2-handled 2-compartment relish
9" 3-compartment 3-handled relish
8" 3-compartment 2-handled candy box and cover
10½" celery and relish dish
Individual sugar and cream
Cigarette box and cover
4½" rose bowl
In addition to these items and those made in crystal, Duncan also made green, vaseline and ruby. It is understandable why the Canterbury pattern was one of their most popular patterns.
Blanks were also sold to other firms to be decorated with sterling on crystal and gold on crystal. Silver City Glass Company, located in Meriden, Connecticut (see ad above left), was one of the companies who utilized the blanks from the Duncan regular line and who had several made exclusively for their firm.
The following were samples of items used for decorations.
No. 115 - 7" compote
No. 115 - 10½" 2-compartment relish
No. 115 - 3-compartment relish
No. 115 - 3" candlestick
No. 115 - 3-compartment candy box and cover
No. 115 - 6" 2-handled bonbon
No. 115 - 12" 2-handled plate
The following were molds made for the Silver City Glass Company by Duncan to be decorated with designs of their own choice.
No. 150 - 11½" crimped bowl
No. 150 - 2-compartment relish
No. 150 - 6" handled mint dish (pictured in ad, above)
With the closing of the Duncan and Miller factory on June 24, 1955, it would seem to be the end of an era of "The Loveliest Glassware in America" but another chapter unfolds as the molds were sold to the United States Glass Company, Tiffin, Ohio. The colors for the No. 115 line were listed as Greenbriar, Desert Red and Crystal.
We collectors of Duncan and Miller glassware still use and enjoy our Canterbury daily and wonder what will be written in future chapters. One fact is certain: in both past and present, Canterbury has earned the title of "America's Finest Modern Crystal."