Fostoria's "June" Pattern
by Virginia Scott
Rainbow Review Glass Journal - December 1976
In Part 1 of this Fostoria series, I mentioned that the earliest Fostoria advertisements were quite simple in composition. Most of the early ads had a striking picture of one or two lovely pieces and a skillfully written paragraph of text. From 1928 to 1931, Fostoria ran a series of what I have named "Table Setting Ads." These ads show pictures of and describe table settings for meals from breakfast to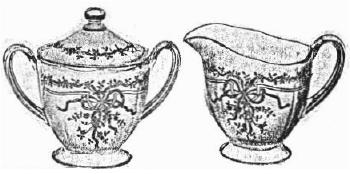 formal dinners and other occasions. The first few of these ads were in the original format. After 1928, however, the ads were changed so that they became more complex in both wording and illustration.
The ad shown here (at end of article) for Fostoria's beautiful "June" design, appeared in 1929. This ad shows some of the changes noted above and falls into the category of a "fussy" ad. It was full-page and in color and was quite attractive and appealing. The "June dinnerware was shown in Azure and Dawn colors.
"June" was one of Fostoria's very popular patterns. It was introduced in 1928 and was made until 1952. The design is a plate etching, Fostoria's No. 279. The motif is a tasteful arrangement of garlands of ribbons and sprigs of tiny flowers which are tied at intervals with flowing ribbon bows. Fostoria's No. 2375 "Fairfax" blank was used for most of the June settings. However, other blanks were used for many of the decorative and accessory pieces. Matching stemware and footed tumblers were etched on Fostoria's No. 5298 blanks. June was made in crystal, "Dawn" (pink), "Azure" (blue), Topaz (yellow) and Gold Tint. Drinking pieces were made in all crystal or with crystal foot and stem and Azure, Topaz or Dawn bowls. Is is interesting to note that the etched design was adapted to fit the shape of the piece being decorated. It was shortened for such items as plates and bowls and was elaborated and lengthened for taller items such as stemware and pitchers.
[Reference: Weatherman: Fostoria: It's First Fifty Years.]
I hope that you will read the entire ad, noting how much information the ad writer was able to incorporate into it. I thought it particularly interesting that the table setting uses both Azure and Dawn "June." "It is smart and charmingly effective," the ad claims, "to use two Fostoria colors on the same table."