Glass Covered Frog & Elephant items
by Mary Van Pelt
Rainbow Review Glass Journal - September 1976
The left picture (below) of the covered Elephant was designed by George Hipkins of the Hipkins Bros. mold shop in Martins Ferry. They were originally produced by the old Co-op Flint Glass Company in the mid 20's in Beaver Falls, PA. The first original design was 14" in length, later reduced to 8". The smaller one was made also with deep etched flowered damask like saddle cloth. The original lid was used as an ash tray, with cigarette rests. Later they were reproduced by the Consolidated Lamp and Glass Company of Coraopolis, PA in the late 20's.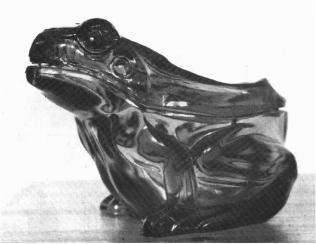 The second Elephant covered dish (shown above right) is believed by Mr. Frank Fenton to have been produced by his company, for as he stated, his company also produced covered elephants, around the early 30's, and since so much time has elapsed he could only state he believed this is the one produced by his company. The difference between the two designs is in the position of the trunks and the rear legs.
The Frog (shown at left) was also originated at Co-op in the 1920's. Erskine Glass Company acquired these molds, stating through the years the molds of the lids were lost or broken and new ones had to be made. There was also a turtle, a bear and a fish. The Bear and Fish were scrapped during WWII, so any existing covered bear or fish is prior to early 1940's. The turtle was loaned out and eventually lost. Thus in 1969 Erskine reproduced the Elephant and Frog in amber and in green. Vallerystahl made an identical Frog in off-color milk glass early in the 1900's.