Jeanette Glass Company's "National" Pattern
by Glenita Stearns
Rainbow Review Glass Journal - August 1976
Though a product of the forties, many collectors of Depression Era glass are showing an interest in the NATIONAL line produced by the Jeanette Glass Company. This pattern is characterized by the heavy exterior ridges. These ridges also give a sparkling light reflection. The glass is quite thick, and strong enough to withstand minor mishaps. Many pieces can be found in shops and flea markets today, and it is usually priced reasonably, so today's collector can use the pieces frequently without fear of an expensive loss. They are also safe in the dishwasher -- often a plus.
The line consists of occasional places such as a candy jar, vase, milk pitcher, a cigarette box and ash trays. A berry set was made, and a cup and saucer. The two pitchers have rounded handles, but all other handled items have distinctive handles advertised as "crossed logs".
These cleverly fashioned handles were designed to give the hostess ease in serving. These handles can be seen clearly in illustration #1 - a table set consisting of the sugar and cream, salt and pepper set with plastic tops and a tray. The wholesale price of this set was 90¢ in 1947 - or 75¢ without the salt and pepper.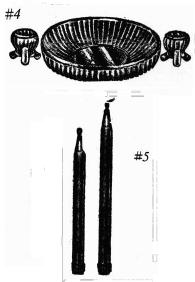 An interesting relish set was made in this pattern, a five sectioned relish dish and a covered salad dressing bowl. The ridges separating the sections are blended into the design. (Illustration #2).
Shown in illustration #3 is the candy and nut set. The covered centerpiece for candy is footed, as are the four individual nut dishes. The wholesale price for this set was $1.
The console set in NATIONAL was featured in this catalogue as an item that combines "beauty and serviceability". The bowl is 12" across and suited for holding "fresh or artificial flowers". The candlesticks have three stubby legs and an extra wide 2½" mouth that keeps wax from dripping on table or cloth. (Illustration #4).
And if you didn't want to use wax candles, this wholesaler would provide for you "Mirror Glass Candles" (illustration #5). "Very well made" of silvered glass in the form of a candle, with a "rosy hued" tip to give the effect "of an actual candle". These came ten and 12" tall and were $2.25 a dozen wholesale. I'm sure many of us remember seeing these candlesticks on mantles and tables in the forties.
(All illustrations above are from the wholesale catalog of General Merchandise Company of Milwaukee, Wisconsin.)