Sandwich Patterns - Tiara Party Plan Line
by Virginia Scott
Rainbow Review Glass Journal - June 1976
A series on the Sandwich patterns would not be complete without information on the new Sandwich issues, "Tiara Sandwich" and "Colony Sandwich". Indiana Glass Company, Dunkirk, Indiana, a subsidiary of Lancaster Colony Corporation, has made these lines for several years.
I found it impossible to obtain first-hand information about the new lines. My letter of inquiry to Pitman-Dreitzer (Colony) was not answered. My letter to Indiana Glass Company was answered politely but I was informed, "It is economically impossible for us to maintain a research staff that could adequately reply to all requests for product information."
About Tiara Sandwich, Indiana replied, "The Tiara Sandwich line is the old Indiana Glass Line which was originally produced at the same time as the Duncan and Miller line". (Indiana's No. 170 Line). So the information in this article had to be gathered by bits from books and glass publications.
As far as I have been able to determine, the "Tiara Home Party Plan" line was started around 1969. At that time, a rather limited line of Sandwich was made in Ruby Red - a clear bright red. In 1970, "Sandwich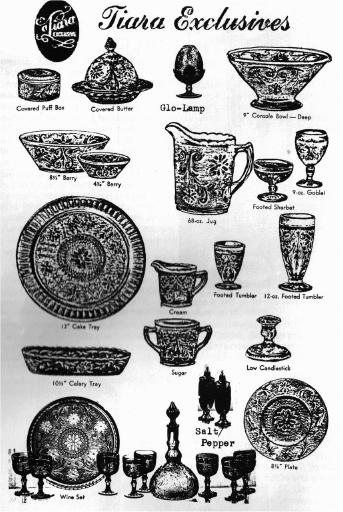 Gold", a dark amber was offered. New pieces have been added occasionally, until the present time. A new color, "Colonial Blue," a medium smoky blue, was introduced in March, 1976 and dubbed "A Bicentennial Collector's Series" in their brochure. A limited production of 15,000 sets will be made and their regular lifetime guarantee is not valid on these items. However, Tiara does offer to replace any broken pieces through June, 1977.
The following is a listing of pieces made in Ruby Red, Sandwich Gold and Colonial Blue:
RED

Plates: 8" Salad, 10" Dinner, cup/saucer, 68oz pitcher, 9 oz goblets, sugar/creamer, wine set: 10" decanter/wine goblets/tray; 13" serving platter, center handle server (metal handle), 8½" candy jar/cover (from Duncan Miller mold).

GOLD

All pieces listed for Red except Center handle server and candy jar with cover. Additional pieces: 7" bread and butter plate, snack set: oval plate w/cup; 3 oz footed juice; 12 oz footed tumbler, footed sherbet; salt/pepper set; butter/cover; celery tray; handled basket; berry set: 8" bowl/ 4" nappies; 6" deep nappy; puff box/cover; 3 piece tiered ensemble (stacked boxes); 4-piece. bridge set ashtrays, large ashtray, low candleholders, footed console bowl, glo lamp, 16" sandwich platter (from Duncan Miller mold).

BLUE

Sold in a choice of three assortments.
Assortment "A": 4 sherbets, 4 goblets, celery tray and 16 piece starter set (4 cups, 4 saucers, 4 dinner, plates and 4 salad plates) selling for $59.90
Assortment "B": butter and cover, salt and pepper set, pitcher, console bowl (hat shape), sugar and creamer selling for $59.90
Assortment "C": 4 footed tumblers, 4 footed juice glasses, one set Berry Bowl and 4 desserts, one 8 piece snack set for $59.90
The 11 piece wine set (decanter with stopper, 8 stemmed wines on a round tray) is available but cannot be purchased according to the brochure - you must contact a Tiara representative to find out how to get it.