Anchor Hocking's "Sandwich" Pattern
by Virginia Scott
Rainbow Review Glass Journal - March 1976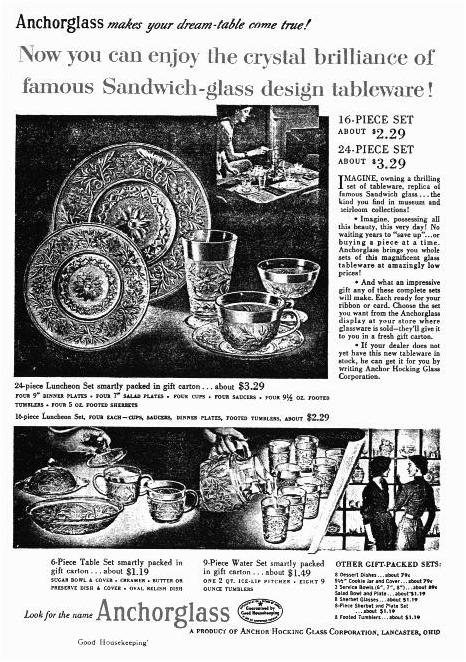 Except for many advertisements for "Fire King Ovenware," I have found very few ads for Anchor Hocking's glassware. Therefore I was very pleased when while looking through the 1954 Good Housekeeping magazines, I came across several ads for Anchor Hocking dinnerware patterns. I was particularly delighted to find the ad for their Sandwich design pattern which is shown at the end of this article.
According to a listing which was sent to me by Mr. Phil Bee, Product Planning Coordinator, Tableware Division of Anchor Hocking, their 1400 pattern, called "Sandwich Design," was made in 1953 in crystal and in 1957 in Forest Green. Hazel Marie Weatherman gives additional dates (Book 2): Pink Berry Sets and Royal Ruby bowls - 1939-40; Crystal complete line - 1953-55; Crystal cream, sugar (no cover), oval vegetable and 3-piece bowl set - 1956-60; Opaque Punch Sets Ivory and Gold Trim, 1950-58; Forest Green, small issue, mid-1950's; Forest Green and Crystal, 5 oz. and 9 oz. tumblers, nappy, custard cup and 4½" plate to go in cereal boxes - 1960's; and Desert Gold, 9 pieces 1963-64.
Anchor Hocking's "Sandwich Design" is the least complicated of the various Sandwich patterns and there seem to be fewer variations. The design features a rather simple winged scroll design which alternates with a flower which some people think resembles a dahlia. The scroll has two wings and a design in the center which looks somewhat like a stylized tulip. The center motif is a large flower set in a small circle of stippling. The circle is surrounded by one row of six-petal crosses which are sometimes referred to as "butterflies." There is very little variation in this basic motif from piece to piece. I have noticed that on a few pieces (flat tumblers, crimped custard, 4¼" green nappy) the center design is surrounded by a row of inverted "V" petals instead of the petal crosses. You may find this on a few other pieces.
Notice the 1954 prices as shown in the advertisement. A 16-piece Luncheon Set of four each cups, saucers, dinner plates and footed tumblers was $2.20 The 24-piece set added four salad plates and four footed sherbets and was $3.29. And how about that 9-piece water set for $1.49, that "Table Set" for $1.49 and that Cookie Jar w/cover for 79¢.