Westmoreland's "Princess Feather"
by Virginia Scott
Rainbow Review Glass Journal - January 1976
According to an advertisement of the late 1940's, Westmoreland Glass Company's Early American Sandwich pattern, known as "Princess Feather" after the late 1930's, was still being made "by skilled craftsmen in the same manner of sixty years ago". A 1943 ad stated "Princess Feather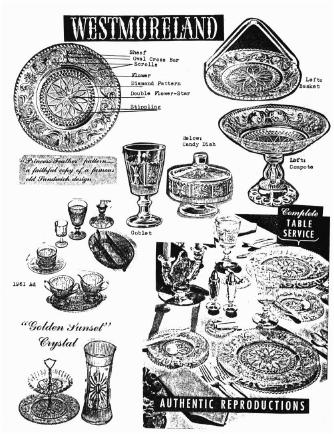 is a faithful copy of a famous old Sandwich design". (Note: the pattern is not at all like the old pressed glass pattern in Ruth Webb Lee's book "Sandwich Glass".)
"Princess Feather" as another Westmoreland ad claims, "deftly recaptures the sparkle and lacy loveliness of Old Sandwich Glassware". It is an all-over lacy pattern featuring a sheaf-scroll-and-flower motif on a background of fine dots or stippling. (See the labeled illustration at right, top left). The border design is made up of scrolls which fan out from a rather "stylized" sheaf which has an elongated oval cross-bar in the center. An oval flower with 12 petals alternates with the sheaf-and-scroll on such pieces as the plates and bowls. The oval flower also has an oval in its center (the oval cross-bar and flower are characteristic only of Princess Feather and help to identify it). A large double "flower-star" with rather pointed petals is found on the bottom of many pieces. This flower is set in a stippled circle and is surrounded by a band of diamond pattern. Notice that a somewhat different arrangement is found on the stemmed pieces, footed candy jar, (illustrations, center), vase (bottom, left) and some other items. These pieces are paneled and a sheaf, a scroll and a flower alternate in the panels. A ribbed band completes the design below and in some cases above the panels. Lids have the pattern found on the border of the plates. Notice the foot and stand of the large compote, center right. This is a popular Westmoreland reproduction and is used with many patterns and pieces and, with candle cups added, as candleholders.
Princess Feather was advertised in crystal during the 1940's and 50's. It was also made in pink, aqua blue and green earlier. In the 1960's it was made in a "Golden Sunset", a color described in Westmoreland ads as "a golden hue like the glow of a lovely summer sunset".
Princess Feather was, according to one ad, "Handmade of purest water-clear crystal glass and reflects an air of delicate richness and unrestrained beauty". It was available in complete luncheon services of plates, stemware, tumblers, cups and saucers, bowls and nappies. Accessory and serving pieces included a 15 piece punch set, torte and canape plates up to 18 inch diameter, salvers, fruit and banana bowls, handled baskets and double and single candleholders.