Figurines of the New Martinsville Glass Company
by Addie & Everett Miller
Rainbow Review Glass Journal - November 1975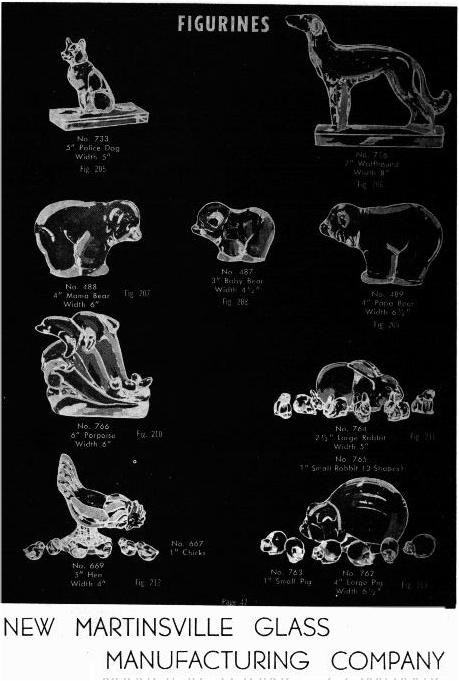 These New Martinsville glass animal figurines were introduced by this glass company in the mid 1930's. They were not to be outdone by other glass companies when a popular item was marketed. Their designers came up with many well designed and unique figurines. Most of these were novelties and paperweights, while others were made in pairs for book ends.
The Gless Menagerie starring Loretta Taylor and Anthony Ross in 1944, running on Broadway for several years, used many New Martinsville glass animals. These were thrown during the play and broken. (Wipe away your tears!) Many of those were the ones you see on the accompanying page.
Children's fascination and man's love for animals made these very saleable for the company. Today they are highly collectible and appealing. Prices have soared as figurines become scarce.
The crystal glass used in making these figurines was of superb quality. Using excellent glass was a policy established by this company when it was incorporated in 1901 and has been maintained through all the years - even today under the ownership of the Viking Glass Company.
A few of these may be found in white or black milk glass, peach, green, blue, amethyst or frosted (all scarce). Again in the mid 1950's, Viking introduced a new line of figurines, mostly in color. These will appear in later issues.
---