Who made the candleholdera you are using? Do you know? If not perhaps the following pictures will give you some help. Also, if you collect glass, chances are that you, like I, buy every beautiful candlestick or candlelabra you spot at a flea market.
After I had bought several at my "lucky find flea market," Billy asked if I were collecting candlesticks. I really didn't think so, but when we rounded up all of the ones I had on hand we found that I really did have a candlestick collection! So then, several months ago, I began trying to identify them - after much research, I have managed to put the makers name on most of the candleholders - some of which I want to share with you.
I think Billy did a great job photographing these - crystal is particularly hard to photograph - some time I'll tell you all about the fun and work that goes into making Gwens Glassline. But for now, let's get this candlestick show going. This month we will at two-light candlesticks and then next month we will show you some single light ones.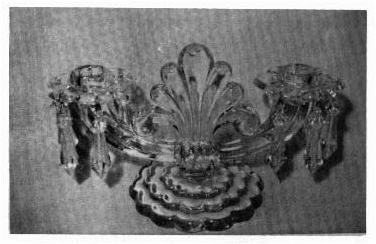 Heisey
Billy found this candelabra at a house sale and for months I tried to find it in some of my glass company catalogs. Last June, while visiting Mr. Vogel, I found its "twin" sitting on a shelf in his museum. It is the "Crystolite" pattern by Heisey and not pictured in Mr. Vogel's books.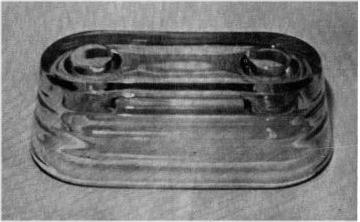 Heisey
This two light candleblock was also identified at Mr. Vogel's Heisey Museum. It is the "Saturn" pattern and is a beautiful color - Zircon - a sparkly turquoise.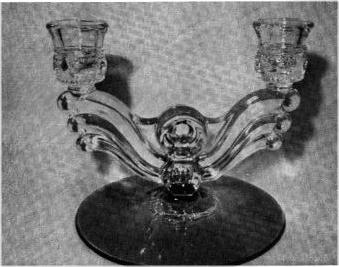 Tiffin
Thumbprint, "Kings Crown" pattern no 4016, crystal with cranberry flashed base. I do not know if candleholders have been made by them, but on the other items in "Kings Crown", Indiana cranberry is a dark color, while Tiffin's is a delicate pinkish satin.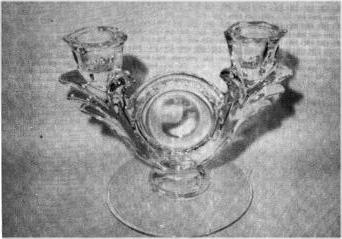 Duncan and Miller
Pattern no. 30, two light candleholder. A beautiful brilliant crystal. This blank was used for many different etchings, such as "First Love," "Indian Tree" and "Language of Flowers." It is 7" wide and 5" tall.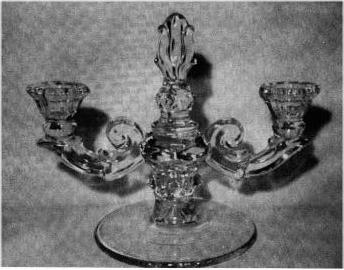 Duncan and Miller
This is one of the most beautiful candlesticks in my collection. It is no. 41, "Sandwich" pattern. I can see no "Sandwich" design other than possibly the row of diamonds around the center "knobs", but since the catalog shows it as this, I am thrilled to have it in my Duncan cabinet.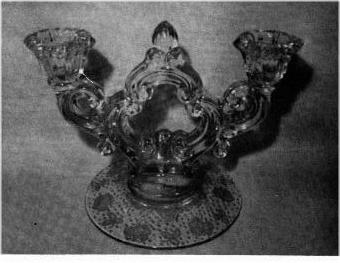 Cambridge
This is blank no. 647, two light "Keyhole" candlestick used for just about all of the etchings done by Cambridge including "Rose Point," "Chantilly,", "Elaine," etc. The etching on this one is "Chintz". Look for the "keyhole" shape - it is found on other items by Cambridge - vases, ivy balls, compotes, etc. Stands 6" tall.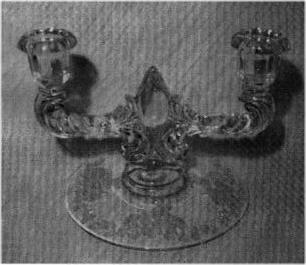 New Martinsville - Viking
This is pattern no. 4457, "Teardrop," with the "Flower Basket" etching. You will find this blank with many different etchings such as "Prelude," "Canterbury," "Florentine," etc. The candlesticks are 7½" wide and 5" high.

New Martinsville - Viking
This is no. 18, "Queen Ann" standing 6" tall and 7¼" wide. [Just in case some new readers aren't aware, the company's name changed from New Martinsville to Viking in 1944 - same factory, same location.]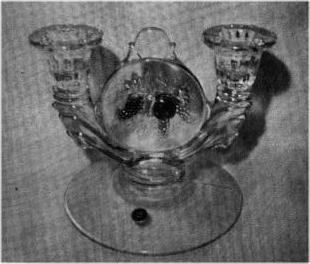 Westmoreland
This is a no. 1058 "Della Robbia" two light candlestick with the sticker intact. Fruits in the center crystal disc are painted natural colors. You will find a single candlestick in "Della Robbia" with the fruit design embossed on the base.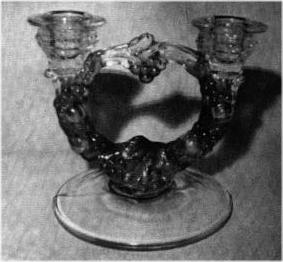 Indiana
I bought a console set in this pattern several years ago thinking it was "Della Robbia" but I later found the bowl in a store boxed in an Indiana Glass Company box - so I felt sure the set I had was not "Della Robbia." I had no name for it until HMW Book 2 came out and found that Indiana called it "Garland" - crystal with painted fruit.