Fostoria's "Repeal" Assortments
by Virginia Scott
Rainbow Review Glass Journal - November 1975
In 1934, shortly after prohibition was repealed, Fostoria Glass Company ran a series of advertisements which stress their "Repeal Assortments" - glassware suitable for serving wines, whiskey and other beverages.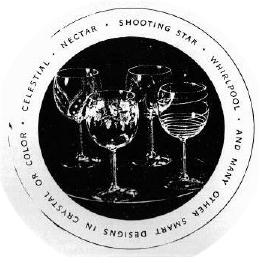 "Fostoria solves for you one of the greatest problems of Repeal," one ad proclaimed ... "by providing absolutely correct glassware in four convenient assortment. The illustration shown at the end of this article, a composite of two Fostoria ads, shows their Number 6011 glassware. Fourteen different items of stemware and footed and flat tumblers are shown around the border. Be sure to read about the different beverage services and compare the border pictures with the names of the glasses at the bottom, left.
Fostoria's Number 6011 glassware was a simple pattern consisting of a rounded bowl atop a classic fluted column stem. The glassware was, according to one magazine article, signed by George Sakier, the noted industrial designer who created many of Fostoria's innovative designs of the period. The glassware was decorated with etchings and cuttings and, as noted in the ad, available in clear crystal or colors. (Colors are not named but an ad for another pattern, "Westchester," No. 6012, states that it was made in "Fostoria's gorgeous new Oriental Ruby and in combinations of color and crystal," and that a new and lavish gold treatment was also available.)
Cuttings used on the No. 6011 glassware include those shown - Whirlpool Celestial, Rocket, Shooting Star, Planet, Quinfoil, Directoire, Mardi Gras and Athenian. It was also produced with a frosted stem and in a needle etching "Nectar" (Reference: HMW's Fostoria: Its First Fifty Years). In addition to the glasses shown, most of the designs named also included water goblets, sherbets, two sizes of hollow stem champagnes, several sizes of footed tumblers, a footed jug, footed decanter, 6", 7" and 8" plates, 10½" bowl and 6" candlesticks. When we consider the various patterns and multiply those by the number of items produced, we find that an incredible number of pieces must have been produced by Fostoria in the 6011 glassware line.