Fostoria's "SunRay" Pattern
by Virginia Scott
Rainbow Review Glass Journal - October 1975
Fostoria Glass Company of Moundsville, West Virginia, introduced their Number 2510 Line, "SunRay" pattern in 1935. This pattern, which was advertised by Fostoria as "definitely inexpensive" was evidentally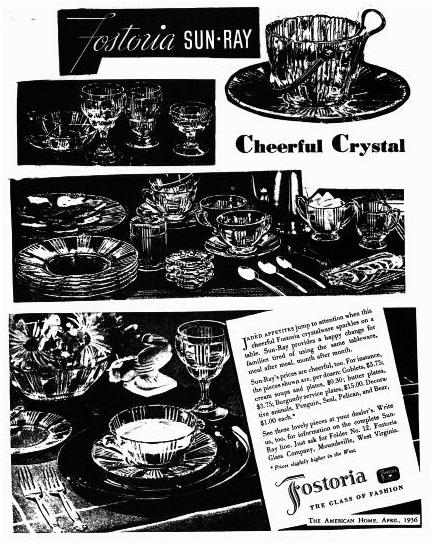 produced to sell competitively with the cheaper glass of the depression days. A 1935 ad stressed that "many pieces carry price labels lower than fifty cents; and the average price of the larger pieces is less than two dollars." See the ad at the end of this article for 1936 prices.
Sun-Ray is a rather simple pattern consisting of panels of clear glass which alternate with ribbed panels. Fostoria ads call it "Cheerful Crystal" and emphasize that "every piece sparkles like sunshine." This sparkle is partly due to the ribbed design which catches and reflects the light rays, but is also due to the high quality of the handmade glass. Some pieces of Sun-Ray were made with frosted ribs. Such pieces are called "Glacier" and the finish is Fostoria's "Silver Mist," a soft, smooth mat finish which was applied to many items during the late 1930s. Some Sun-Ray was made in Azure, green, amber, topaz, gold tint and ruby (Reference: Fostoria: Its First Fifty Years by Weatherman). The pattern was discontinued in 1944.
Around eighty items were produced in the Sun-Ray line. "Not only plates and bowls of various shapes and sizes" one ad informs, "but tumblers and goblets ... and dozens of handy dishes for jellies, relishes, nuts, mayonnaise, candy, cigarettes, etc." Notice the distinctive shape of the stemware, top left.
Some interesting serving pieces were available in Sun-Ray - shown on the picture below. Center right is the small sugar and creamer and tray which is being used as a lemon dish. A rather large table sugar and creamer was also produced, as were two sizes of salt and pepper shakers. The lovely ice bowl (bucket) set is shown at top right. Notice the handled cream soup dish at bottom left. This dish with a domed lid added was advertised as an Onion Soup bowl. An additional statement said that it was also "suitable for a candy jar."
Condiment sets were popular during the 1930s. An especially attractive set was made in the Sun-Ray pattern. It consisted of an 8½" handled tray which was shaped to hold cruets at each end and widened at the center to hold two covered jars with ladles. An appealing oblong ¼ pound butter dish and cover was also advertised as a cheese dish. Also available was an 8-piece Decanter set which consisted of a 26-ounce oblong decanter and stopper, eight 2-ounce tumblers and a 10½" oblong tray.
You may find pieces of Sun-Ray among the less expensive glass in shops or at Flea Markets. It somewhat resembles several cheaper patterns and is often unknown or unrecognized as Fostoria.
---