Heisey's "Old Williamsburg"
by Virginia Scott
Rainbow Review Glass Journal - August 1975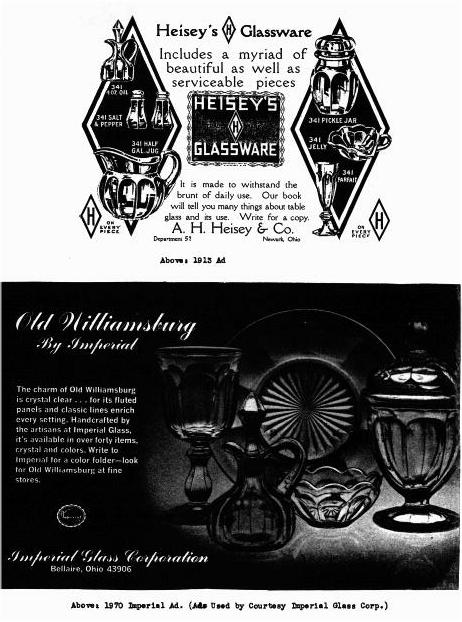 Recently, I received an Imperial Glass Corporation 1975-76 Catalog to be used in my Candlewick research. It is an interesting and very beautiful catalog. Among the patterns shown is "Old Williamsburg," a pattern That Imperial is producing from molds acquired from A. H. Heisey & Co. when it went out of business. Seeing the pictures of the pattern reminded me that I have found many ads, both Heisey and Imperial, for "Old Williamsburg" and for Heisey's No. 341, its predecessor.
A. H. Heisey & Co. operated in Newark, Ohio from 1906 to 1957, In 1958 Imperial Glass Corporation acquired Heisey's molds, equipment patents - trademark and formulas. Since that time Imperial has produced several Heisey patterns in crystal and also in colors. Some pieces were produced with the "Diamond H" trademark but later the trademark was removed from the molds and does not appear on items produced at this time.
The top ad shown at the end of this article, found in a 1913 magazine, shows Heisey's No. 341 pattern. This pattern, first marketed in 1904, was called "Puritan." It was renamed "Old Williamsburg" by Heisey during their late years. Around 175 items were made in No. 341 at one time, but during the 1950s, the figure dropped to around 50 items. Most No. 341 pieces were marked with the Heisey trademark. Those pieces marked with the large "Diamond H" were probably made before 1920, as a smaller trademark was used after that time. Mr. Clarence Vogel, author of 4 books on Heisey, states that except for the footed Pilsner ale, which was made in Sahara, Moon Gleam, Flamingo and Cobalt, very few No. 341 Items were made in color.
The Imperial Catalog mentioned above shows reproductions of "Old Williamsburg" in both crystal and colors. Around 35 items are shown in crystal. These include: stemware and tumblers, 8½" and 13" plates, two sizes of nappies and bowls; two sizes of sugar and creamers; two sizes of pitchers; a salt and pepper set; relish dishes; cake stand; footed compote and bowl; a covered jar; cruet and candleholders. In addition to the crystal pieces, five items are shown in colors. These are: goblet, footed dessert, wine, ice tea and 12 oz. tumbler. The colors shown are Ultra Blue, Amber, Nut Brown, Sunshine yellow and Verde Green. Several other colors have been used by Imperial in former years: Antique Blue, Azalea, Blue Haze, Steigel Green, Heather, Ruby and perhaps others.
The bottom advertisement is from Imperial, dated 1970.
---