Pairpoint Glass Company
by Orva Heissenbuttel
Rainbow Review Glass Journal - February 1975
Glassmaking - America's first industry - began in Jamestown, VA in 1608, and the industry spread to New England in 1639 with the establishment of a bottle factory in Salem, MA. Since the 17th Century such well known names as Boston & Sandwich, Mount Washington, New England, Pairpoint, Phoenix, Pitkin and Portland have been associated with glassmaking in that region.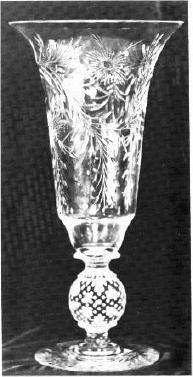 Only one factory remains to carry on the tradition of fine crafted glass in New England today - the Pairpoint Glass Company of Sagemore, MA. The history of this company dates back more than a century, to the founding of the Mount Washington Glass Company which was founded in Boston in 1869, moving to New Bedford soon afterward, next to the Pairpoint Co., a small silver company.
The Mount Washington Glass Company became famous for their art glass in the 1880s, following their development of Burmese in 1885, and their production of Mt. Washington Peachblow, Lava, Amberina, Cameo and other popular types of art glass. Eventually the Mount Washington Glass Company and the Pairpoint Silver Company merged in 1894, brought together by a common interest in craftsmanship in the fine arts, but mainly because they had practically the same stockholders and customers.
The Pairpoint Company closed their New Bedford plant several times over the years, the last time when operations ceased in 1957 at the plant, then known as the Gunderson-Pairpoint Glass Works. The plant was leveled as part of the town's urban development, but the site has not been developed, and it is still a vacant lot.
Robert Bryden, the last Pairpoint manager in New Bedford, moved the Company to East Wareham, MA, where he opened a small factory in October, 1957. This was short-lived, and operations were suspended in February, 1958. Bryden continued to produce Pairpoint glass for the next decade at leased facilities in Spain, exporting stemware, perfume bottles and paperweights back to the U.S. in limited quantities.
Returning to the U.S. in 1967, Bryden opened a newly built factory in Sagamore, MA, in January, 1970, where once again he is making the type of fine glassware always associated with the company. The factory has been enlarged and now has a gallery where visitors may watch the craftsmen. It is on the east bank of the Cape Cod Canal, just under the Sagamore bridge, and is open weekdays 9 to 4:30. Visitors may purchase recently made items in the gift shop.
Most of the Pairpoint glass being acquired by collectors today dates from after 1910 when they began to use a spherical knop on vases, compotes and other footed pieces. This knop, also called a "bubble ball" or "paperweight connector" by collectors, contains a controlled series of air traps of the type used in paperweights.
This knop almost became a trade mark at the company, although it was used by other companies such as Steuben, Fry, Dorflinger, Morgantown and Libbey. Another decorating element associated with the company was the copper wheel engraving in the "Vintage," or grape pattern, also a popular motif with other companies.
The bubble ball and the "Vintage" engraving were the major characteristics of Pairpoint glass when Leonard Padgett of Clinton, MD, decided to collect it in 1963. As very little had been published about the company, it was relatively unknown, and he began to research the history of the company and their wares. Five years later he published what information he then had acquired in Pairpoint Glass, a booklet illustrated with examples from his collection, the first such publication devoted entirely to Pairpoint glass. A larger, more comprehensive book on Pairpoint glass was later published by George C. Avila, a New Bedford native, but is now out of print.
Although the Pairpoint pieces which form the major portion of the Padgett Collection were made less than 60 years ago, they are not easily found today. A discriminating collector, Mr. Padgett has more than 150 pieces in his collection, including examples of those pieces made at the present Pairpoint Glass Works. Probably the tall chalice-like vases are the most common form found but it is found in a great variety of colors and engraved patterns. Combinations include either a clear or colored foot and a stem which does not have the "bubble-ball" in compotes, covered urns, vases, bowls and candlesticks. Perfume bottles and paperweights can form an interesting collection alone.
The company's Fine Art line is particularly sought after, for it combined fine quality cut or engraved crystal set in a silver plated frame of classic design. The company did not produce sterling items.
The glass presently being produced it the Pairpoint Glass Works is not an attempt to reproduce the old, according to Ruben Bryden, but rather to produce handmade crystal that is acceptable to today's market. Many of the items are made on special order for leading gift shops and private individuals. They are also producing limited edition bells, paperweights and urns as American Revolution Bicentennial commemorative items for various organizations, and specially engraved one-of-a-kind presentation items are a specialty.
Very little Mount Washington or Pairpoint glass has been permanently marked. A few of the Mount Washington items were marked, but nearly all Pairpoint glass, past end present, carried a paper label. Mr. Bryden has used a diamond pencil to "sign" articles on request with the familiar "P in a diamond." This trademark was used on all of their silver (which is no longer made) and is still used as their trademark on the paper labels for their glass.
One does not become an instant expert in identifying Mount Washington or Pairpoint, just as they do not in their study of other tine glassware. But the study of Pairpoint reveals a continuous tradition of fine quality and craftsmanship, whether made yesterday or today. Mr. Padgett expects to publish a second book on Pairpoint with information on the labels, patterns, colors, history and color illustrations of both old and modern pieces, to be released in 1976.
A Collector's Guide To Pairpoint Lamps by Louis 0. St. Aubin, of New Bedford was recently published. The lamps compete with those of Tiffany and Handel in popularity, with the all glass shade painted and signed by the artist.
A local glass group, the New Bedford Glass Society, was organized last year in New Bedford with the purpose of building a museum to display the many beautiful glassware items made in New Bedford, beginning with the early Mount Washington of the 1870's to the Pairpoint Glass of the 1950s. The town is much better known now for the whaling industry of the 19th Century and its Whaling Museum which displays many fine examples of scrimshaw, another New England craft tradition.