Unmarked Heisey? Why Not?
by Clarence W. Vogel
Rainbow Review Glass Journal - February 1975
Many Heisey collectors are concerned about the "Diamond H" or Heisey trademark. Some are concerned about where to find it on a piece of glass; some think it should all be marked and are puzzled as to why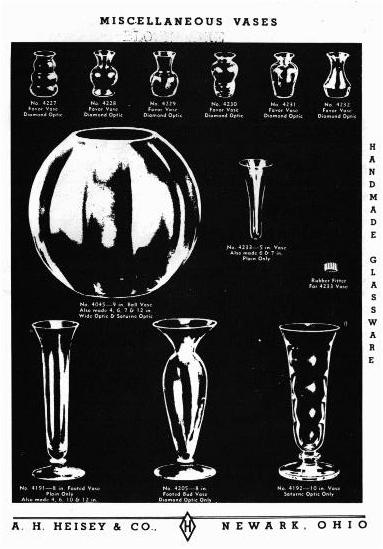 some is not. Many collectors of Heisey glass will not believe that an unmarked piece of glass on the dealers table is Heisey even when the dealer tells the prospective buyer that she will guarantee it. But the truth of the matter is that most Heisey glass is not marked. And much of the unmarked is the best, in quality, beauty and investment.
It may be hard for some to believe that less than one half of the glass made by Heisey was marked. All of that made prior to 1902 was unmarked. None of the blown ware made throughout Heisey's entire history is marked. Much of the stemware is not marked. Many of the late patterns are not marked. Few Heisey animals - were marked (Generally, the marked ones are made by Imperial). Some of the patterns popular in the 1930s and 40s had items which were not marked. Others lost their mark when it was fire polished.
The other day I was looking at some of the Heisey glass items in my collection. I began picking out those items of Heisey which meant more to me because of the beauty of the glass and design. Then it was that I realized that the items I was choosing for their beauty and rarity were mostly unmarked.
Long ago I fell in love with the cherub candlesticks. They are 11 inches high. The boy or the cherub is 7 inches of the eleven. He is on a pedestal and holds a short pole in his arm. On top of the pole is the candleholder. They were made in Flamingo and MoonGleam.
None of the decanters or shakers are marked. Any of them are collectors items and very hard to find. Those with cuttings or etchings are real pieces of art. Especially those in the Deep Plate Etch like Tally Ho or the Huntsman. In sets of six or twelve matching wines, whiskeys, or cocktails, it is something else again. Why would any Heisey collector pass them by unless it was a matter of not having enough money to pay the price? If the collector is waiting for a marked one to come his way he is in for a severe disappointment.
Some of the most beautiful stemware I have seen is not marked. A wise collector latches on to any good unmarked stemware. Much of the beautiful Heisey stemware can be bought for less than it would cost to make it today. I know of many Heisey collectors who are hunting for complete servings or sets in some of the patterns. They are worth the price being asked by most dealers today.
It is time that Heisey collectors became wise and bought only blownware glass.