Rock Sharpe Crystal
by Virginia Scott
Rainbow Review Glass Journal - February 1975
Many ads for "Rock Sharpe Crystal" appeared in the leading magazines during the 1930s and early 1940s. The crystal of Cataract-Sharpe Mfg. Co. (later Sharpe Inc.) of Buffalo, NY, was almost always represented in articles featuring glassware of most leading companies.
In spite of this evidence of the prominence of Sharpe, Inc., I have almost no information on its history to give. I did find, in a pamphlet from Libby, that Owens-Illinois purchased Sharpe, Inc. in 1947. Sharpe was referred to as "one of the leading firms in the cutting and polishing of glass tableware." Did they buy blanks and use their cuttings? (Information, anyone?)
"Charleston," shown at left in a picture from a 1941 Good Housekeeping magazine, was named by Sharpe as their best selling pattern for the survey "The 15 Most Popular Glassware Patterns." (Elizabeth Gordon, House Beautiful, Dec. 1942). "Charleston" is an intricate cut design, as were many of the Sharpe patterns.
Because of lack of material about Sharpe, Inc., I am including some of the other Rock Sharpe Crystal patterns from ads of the 1938 to 1942 period. I hope these pictures will help readers to identify Sharpe patterns that they may have.
Webmaster's Note: See the letter reproduced below the advertisement for additional information on Sharpe.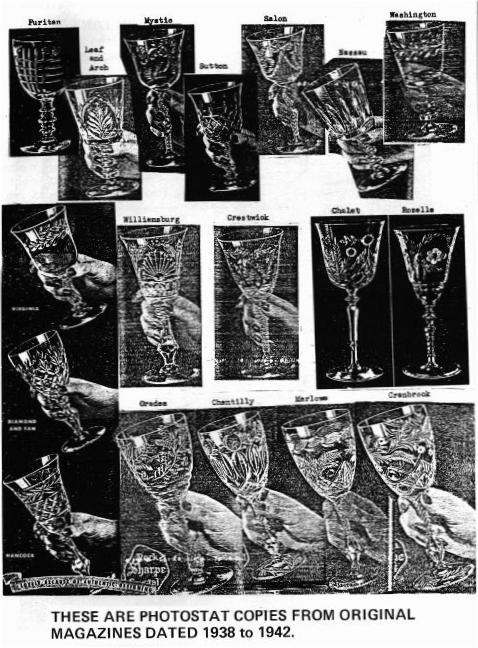 April 1975
Editor: Rainbow Review
I am pleased to offer some information, as requested by Virginia Scott in her article in your Feb. l975 issue about Rock Sharpe Crystal.
Libbey Glass and Bryce Brothers of Mt. Pleasant, PA, were both furnishing hand-made stemware blanks to Sharpe in the mid-1930s. Sharpe made no glass, but was a cutting operation and since they marketed stemware only under the Sharpe brand name, none of the blanks were identified as coming from Libbey.
In the late 1930s, Libbey developed the process for making stemware automatically, primarily for the restaurant, hotel and bar trades. Since Libbey had no opposition in the retail field during those years, the factory made stemware patterns for Sharpe by machine as well as hand-made until wartime restrictions terminated factory operations, except for essential war effort products. Shortly after the war ended, Libbey acquired Sharpe, using the operation to make cut glassware, marketed under the Libbey name to retail stores. Final acquisition was made in 1947 and the operation moved to Toledo about the early 1950s.
Records of Sharpe patterns have been lost, but some references are made in Concetta Emanuele's book STEMS. We do not consider Sharpe patterns, particularly collectible, but students can only get full facts by researching ads in consumer magazines of the period, as Sharpe was rather extensively advertised.
Carl U. Fauster, Director
Antique and Historic Glass Foundation
Toledo, Ohio