Fostoria's "Colony" Pattern
by Glenita Stearns
Rainbow Review Glass Journal - December 1974
In 1929 Fostoria introduced a few occasional pieces in a lovely spiral pattern they called "Queen Anne," In amber, blue, green and crystal. These delightful pieces were manufactured for only three years and are difficult to come by today.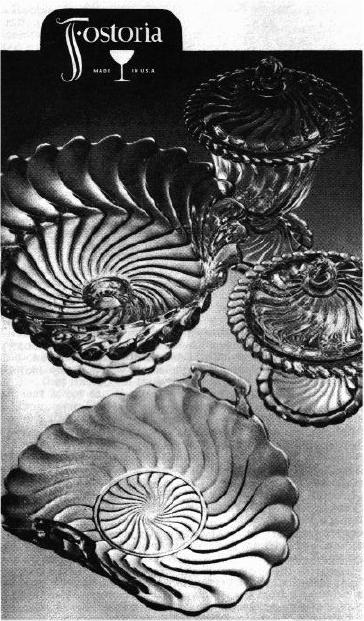 Outstanding in this pattern is the 14½" luster set. While the pedestal was manufactured in crystal or color, the candeholder, bobeche and prisms were made in crystal only. The 9" high pedestaled bowl made to match this set comes in solid colors or with a crystal bowl on a colored foot. A low footed bowl was also manufactured, as was a 12" tall vase, an 11" centerpiece bowl and a 9" candleholders.
This short line was re-introduced in 1938 as "Colony," in crystal only and a full line of items were made.
Though today this pattern is available on order through a local department store, only a plate and the stemware is still in production. The delightful extra items once produced must be acquired through careful and diligent searching.
All the pieces mentioned above as part of the "Queen Anne" line were put back into production as "Colony" and as well as the usual variety of tumblers and goblets, Fostoria made a generous 2-quart jug nearly 8" tall. The charming cruet, with a ground stopper, is nearly 6" tall, and the stopper has the distinctive swirl pattern. The salt and pepper sets came in two sizes, 2¾" with a flat top and a tiny 1 7/8" individual shaker that could be obtained on a tray 4½" by 2¼".
The 12" salver, 4½" tall, is a real showpiece, as is the low comport, nearly 7" tall, with its swirl finial on the cover. The mayonnaise, the handled cream soup or the 7" long olive dish would be charming table accessories, whether used singly or as a set. Those of us who collect tiny bits of glass would be delighted with the footed almond dish, 1 3/8" tall and 2¾" long - a little jewel!
A 5½" square ice cream dish was made in this set, as was a cheese and cracker set with a 12½" plate and a 5¼" cheese stand, 3½" tall, to set in its center.
This long-lived Fostoria pattern is more difficult to collect than it might appear. The quality of the glass and beauty of the shapes incline those lucky enough to own it to hold onto it. So treasure any piece of "Colony" you may own or acquire. Its simplicity of line and shape will make it a joy forever.