Della Robbia
by Bob Bloesser
Rainbow Review Glass Journal - December 1974
Della Robbia? Oh, yes. Wasn't she the dancing partner of Don Gallino in "The 1923 Naples Follies"? Well, no. Della Robbia is a Westmoreland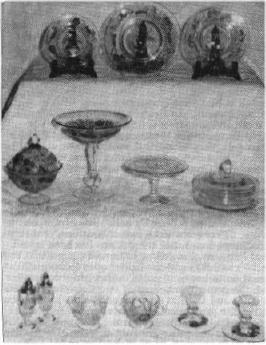 glass pattern which has become one of my favorites. Jo Cunningham defined Depression Glass in her last column for the National Depression Glass Journal as a process, not style or kind, a definition with which I agree. Della Robbia, therefore, isn't DG for it is a finished glass. It is of good quality, with ground bottoms and other hand finished touches that would place it in the category of glass of the Depression Era, but not Depression Glass.
The pattern has a rather long record of production. Weatherman's Book Two prints a 1928 ad showing a sugar and creamer. Frances Bones shared with me an ad from a 1952 magazine, featuring the line. My friends, the Dials, told me of buying a piece or two new from stock in a store a couple of years ago, although they felt the pieces had been setting on the shelves for quite some time. In her DAZE column, July 1974, Weatherman shows a 1960s ad. So, there was a production span of at least 35-4O years.
The design is of pressed fruits in garlands of what appear to be either fig or grape leaves. The design stands in rather high, two dimensional relief and is quite realistic.
The name Della Robbia dates back some 500 years, originating with an Italian sculptor who worked in Florence: Luca di Simone de Marco Della Robbia, 1399-1482. What he began as a substitute for carved stone decoration (evidently builders were cutting costs even then) for use in the architecture of the time became a medium and style of its own. He worked with terra cotta which was molded in high relief and was then enameled. His designs were realistic garlands of fruits, leaves and flowers, monumental in concept, repeated symmetrically across the surface to be embellished. Following the molding, the casts were enameled in simple colors tending to the pastels in hue, usually against a white background. The style is lovely. At San Simeon, the Hearst Castle here in California, there is a Della Robbia room and the effect is breathtaking.
It is this 500 year old design which Westmoreland adapted to their Della Robbia line of glassware. They retained the massiveness, the sculptural and architectural qualities of it, which makes for rather heavy glass, both in weight and appearance. On most pieces it comes off quite well, but some such as the salt shakers and the champagnes stems are rather awkward in that the mass of the design is more than the shape and size of the piece will gracefully bear.
Also retained from the original style is the painting of the fruits, at least on the clear glass. The painting is done by hand, using transparent to translucent luster colors. There seem to he two colorations, probably having to do with the different times that the pattern has been issued. Judging from the ads that I've seen, I'm willing to hazard a guess that the heavy colors date from the 50s and 60s and the lighter ones from the 20s and 30s, One variation is quite heavy in color, rather close to garish. The apple is purplish-red; the grape bunches are of two tints: purplish red and purple; the pear is gold; and the figs are pink and gold. The color, while of a pearly luster, is quite prominent. However, on the second variety the coloration is more of a blush than definite. The apple is pink, the grapes are blue and the figs and pears - golden. The effect is of transparent nacre rather than the opaque pearl of the first type. I thought at first that the second type was a result of wear, but have since concluded that this not so. It seems unlikely that a couple dozen pieces, acquired from several parts of the country would all have acquired the same degree of fading due to wear and use. And, additionally, there are no visible scratches or abrasion spots to indicate wear. Incidentally, one piece I own has a perfect finger-print on one of the fruits, left there by a careless painter I assume. Or was it carelessness? Are the hand visits of children in new cement ever unintended? It's so perfectly placed that I wonder if it too is intentional, a seeking of immortality of sorts. But, enough of romanticism. Note the two flat tumblers in the photos: the iced tea is the heavy color variety and the water tumbler is the second, subtle and soft in color.
This past summer I came upon same water goblets at a show in San Juan Bautista. They were of the clear glass, but from the top of the design on down over the foot, they has a soft blue luster paint covering the entire piece: no other color - just the blue. The effect was to make the entire piece look like blue glass, but I've neither seen nor heard of any pieces in blue - yet!
Several colors other than the clear should be available. The ads refer to transparent colors in pink, blue, green and the clear. I have a pair of the candlesticks in the pink. The fruits on them are not painted. I've also seen clear pieces with parts frosted, usually the garland and fruits.
Additionally, there are pieces in white opaque glass. Items I've spotted include stemware and creamer and sugar. I thought them quite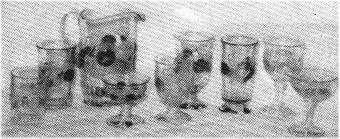 ugly. The design is simply too heavy for the white glass. At a show in Hillsboro, a dealer had a set of water goblets and champagnes in the white. They were unpainted and had a gold stripe on the top rim. The dealer had both priced at $50 per stem! I was assured by this dealer that they dated back to the early 1800s, were from an old estate in Los Angeles, and were brought around the Horn at that time. Rather obviously, I was being lied to. Westmoreland didn't exist at that time, nor did LA., other than for a few hardy Indian souls who resided in the swamps there.
Even more recently I saw a set of water goblets made in blue opaque glass, also unpainted. These were also described by the dealer as being very old. In this case they were early American blue pressed glass. Either I appear to be highly gullible or I have a talent for meeting dealers in Della Robbia who are liars, dishonest or ignorant - certainly the two referenced here are all three.
The photos show many of the pieces which are in my collection of Della Robbia. I've put together a list, culled from my own inventory, assorted authors and ads that have been called to my attention. I am sure that the list is incomplete and would surely welcome any additions.
plate 9"
plate 7½"
plate 6¼"
plate 14"
cup and saucer
bowl 4½"
bowl, handle 8¼"
bowl, shallow 8¾"
bowl, cupped hdl 6½"
relish, hdl and lip 7½"
bowl, bell shape 12"
salt and pepper shakers
chocolate "box", rd, stemmed
comport, stem, 8" tall
pitcher 7"
tumbler, flat 3¾", 8 oz.
tumbler, flat 5", 10 oz.
tumbler, ftd, 5¾", 11 oz.
tumbler, ftd, 5", 8 oz.
sherbets, short stem
wine stem 5 oz.
champagne stem 4¾"
cocktail stem 3¼ oz.
water goblet, 6", 8 oz.
sugar and creamer, ftd
candy jar w/cover, ftd
mint tray, stem 4" tall
various console bowls, etc.
So, regardless of what dealers may try to mislead me with, that is Della Robbia, descended from the red clays of l4th century Florence to become part of that glass producing era that charms me. I've hopes of locating many more pieces for my service in this pattern, such things as a butter dish, a huge basket with a handle, maybe a punch bowl and who knows what other pieces may be gathering dust on the shelves of a store in an out-of-the-way hamlet!