Imperial's Candlewick
by Virginia Scott
Rainbow Review Glass Journal - July 1974

Imperial Glass Company, Bellaire, Ohio, named "Candlewick" as their most popular pattern for the 1942 survey "The 15 Most Popular Glassware Patterns." I have been unable to establish when Candlwick was first made, but have heard that it was in the late 1920s. This very popular pattern is still available, but in a much shortened line.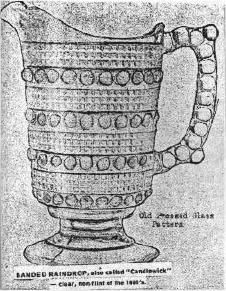 A 1939 Imperial ad describes Candlewick as "Sparkling Crystal in a Gracefully Simple Pattern that will give you a new conception of glassware loveliness." This aptly describes the charming hand-made crystal whose only ornamentation is the beading which one ad names "the gem-like edging" and another "the crystal ball design." Still another ad refers to the "Early American styling," adding "Its heritage is the beloved candlewick tufting adored by brides of yesteryear." I believe Candlewick may have been inspired by an old pressed glass pattern. "Banded Raindrop or Candlewick," which has bands of beading (see scan at left).
Candlewick has been made mostly in crystal, but I have seen pieces made in pink and light blue and have heard of other colors. Two 1949 ads show Candlewick "Rock Crystal" with "Valley Lilly" and "Floral" cutting. Candlewick's crystal-drop beading is used freely - on the edges of plates, bowls and serving pieces; on the handles of cups, pitchers, sugar bowls, vases, bowls and serving plates; on stoppers, finials and the handles of ladles and spoons; and in the stems of compotes, cake stands and stemware.
A very large variety of shapes and pieces have been made. One ad states "over 200 pieces are available." The early stemmed pieces were bell-shaped with a plain foot and four sparkling globes in the stem. Footed tumblers had one large bead. Later pieces have a different bell-shaped bowl set on a smaller bell-stem which has beading around the bottom. Tumblers were made in several sizes. Other pieces made included: plates (3½" to 17"); bowls (5 ¼" to large punch bowl); many shapes and sizes of relishes, bon-bons, sauces, shakers, pitchers, sugar/creamer sets, vases and candleholders; candy dishes; cake stands; snack servers; round and ¼Lb butters; decanter and condiment sets and much more.
I chose Candlewick as my "glassware pattern" in 1941. This beautiful glassware is a joy to use as it blends with other crystal, can be used with plain or ornate china and is lovely on any cloth, white or colored. As one ad says "Candlewick is a gracious hand-crafted crystal, a classic of simplicity, distinguished for its richness and brilliant beauty. Its shimmering loveliness and ever-visible pattern add the supreme touch to your table."