Romanesque
by Glenita Stearns
Rainbow Review Glass Journal - July 1974
One of the loveliest and most neglected of the Deprenion glass patterns is the delicate "Romanesque." In the early day, of Collecting Depression glass, this pattern was named "Gothic Arches," but now that we are more aware of manufacturers, we know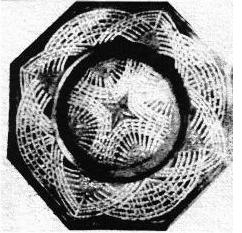 that the L.E. Smith Glass Company gave this pattern its fanciful name, "Romanesque" when they manufactured it in the late twenties.
Many of the pieces in this line are unusual. A low console bowl was produced, l0½" across and only 1" deep. It is an attractive piece, particularly when matched with the low 2¼" candlesticks. The triangular shaped candlesticks flatter the shape of the eight-sided bowl, and plates. A taller console bowl was also made, the same width and depth, but on a pedestal.
Plates in this pattern appear in 8", 7" and 6" sizes, with eight sides. A round, 8" plate also appears from time to time in crystal. I have never seen a round plate in any other color.
The charming sherbet also has eight sides around the rim, though the shape is rounded enough to be practical. Though I have never seen a cup, only saucers, I would assume the cup would be the same shape.
The "Romanesque" pattern appears on many items that art not necessarily part of this pattern. A Black Amethyst pedestalled cake stand has this motif on the bottom of the plate. The candlesticks that match this plate do not have the motif. A low, octagon shaped candy box has been seen. A low round candlestick was reported to me.
This pattern comes in beautiful glowing colors. The heavy, almost beaded effect of the pattern makes the pieces sparkle and shine. The green is a slightly blue-green that is delightful, much softer than the usual Depression glass green. The Canary or Vaseline color is scarce, and it is snapped up by collectors of Vaseline glass. The amber is a rich, deep color, with very little brown cast. It is listed (Weatherman) in pink, and though I have never seen a piece of pink, I'm sure the color is as rich and beautiful as the others.
I'm still looking for something more than the cake stand to convince me that L. E. Smith Glass Company made this pattern in black, but since much of the black amethyst glass collected today comes from this company, I won't be surprised.