The 15 Most Popular Patterns of 1942
from House Beautiful
by Virginia Scott
Rainbow Review Glass Journal - April 1974
A 1942 survey asked fifteen of the leading glass manufacturers to name their best-selling glassware pattern. The report of the survey results was published in a feature article, "The 15 Most Popular Glass Patterns," by Elizabeth Gordon, which appeared in House Beautiful magazine, December 1942.
Here is a list of the companies surveyed and the glassware patterns named as their best-selling:
Blenko Glass Co - Williamsburg Teardrop reproduction
Cambridge Glass Co. - "Rosepoint" etching
Carbone - Hand-blown crystal with teardrop stems
Duncan & Miller Glass Co. - "Teardrop"
Fostoria Glass Co. - "Sceptre"
A. H. Heisey & Co. - "Crystolite"
Imperial Glass Co. - "Candlewick"
Georg Jensen, Inc. - "Berkshire"
Libbey Glass Co. - "Waterford"
Phillips Glass Co. - "Tropical"
Seneca Glass Co. - Cut Crystal in a Dart pattern
Sharpe, Inc. - "Charleston"
Dorothy C. Thorpe - Ivy Vines (a sand-engraved pattern)
U.S. Glass Co. - "June Night" (Tiffinware etching)
Westmoreland Glass - "English Hobnail"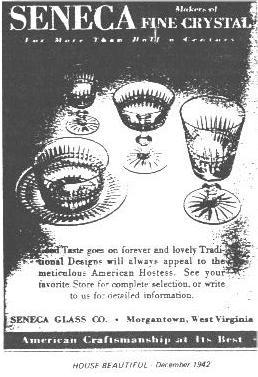 Many of the above named companies are well-known, while some are not so familiar (at least to me). Quite a few are still operating - Blenko, Fostoria, Imperial, Libbey, Westmoreland and, I believe, Dorothy C. Thorpe. U. S. Glass is now part of Tiffin Glass Company. Imperial Glass Co. has acquired the molds and patents of Heisey and Cambridge; Indiana Glass Co. now has some of the Duncan & Miller molds; and in 1947,
Owens-Illinois purchased Sharpe Inc., and it became part of their Libbey Division in 1950.
I am sorry that I do not know anything about the present status of Carbone, Seneca, Phillips and Georg Jensen, but I have included photos from the December 1942 House Beautiful so you can see the patterns cited in the article. (Information from readers welcome).
My next several articles will be based on the results of the 1942 survey. I have found advertisements for many of the "best-selling" patterns named, Some of the patterns are now being eagerly collected. I want to thank House Beautiful for permission to use the information.