English Cameo Glass
by Shiela Zwirn
Rainbow Review Glass Journal - January 1974
Other than applied decoration, there are two methods of executing designs on glass: intaglio and cameo. Intaglio work is the process of cutting designs into the outer surface, and is also termed engraving or etching.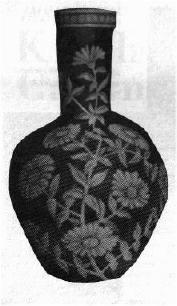 Cameo, or raised design decoration, normally requires two or more layers of glass laminated together by heat. These cameo designs on the outer layer of colored glass are left in relief by removing the glass surrounding the design. The surplus outer layer is removed with acid as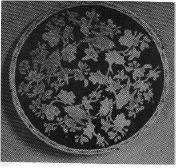 well as by chiselling, grinding tools and wheels. Small cutting and grinding tools are then employed to finely shape and thin out the outer layer design, or cameo decoration. By shaving down the cameo to an extreme thinness, the secondary layer of contrasting colored glass begins to show through, creating a new three dimension perspective of depth in the cameo. This is accomplished by the development of shadows.
It is also possible to place small and independent colored globs of glass at various places on the outer layer and then work these individual pieces into the desired shape and decoration.
To achieve fine results, several highly skilled artists are required, among them being a glassblower, pattern designer, acid etcher or grinder, and polisher. Of course the most important individual is a man to head the team, tolerating and accepting nothing less than the best, and possessing the concept of just what is perfection.
John Northwood, born in 1836, worked until about 1860 in the glass firm of W.H.B. and J. Richardson, learning, experimenting, and developing practical methods of acid etching and cutting. This great artist started his own company in 1860, first with other men, but eventually with only his brother Joseph, continuing for some twenty years to create. work for other companies as well as his own. During this period, many of the outstanding workmen in the trade learned from and were associated with John Northwood in the carving of cameo glass.
During the early part of the 1880's John Northwood, Senior, became director and technical head of Stevens & Williams, the well known English glass company. It was thus, until the end of his life in 1902, John Northwood who guided the policies end became the leader of the Northwood team at Stevens & Williams. Art glass cut, enameled and in fact, in every style and type, seemingly was produced by this company under the direction of John Northwood.
Paralleling the development, creation, and marketing of this fine colored as well as clear glassware, were many other companies, the most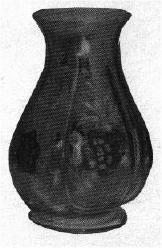 important and outstanding in the field being Thomas Webb & Sons, who have continued in operation to this day.
George Woodall, 1850-1925, and his brother Thomas Woodall, 1848-1926, learned the glass trade as apprentices under the guidance of John Northwood Sr. The Woods brothers not only glass men but also great artists in painting and design, left Northwood in 1874 and for most of their active lives thereafter were employed by Thomas Webb and Sons.
The "Woodall Team," which included other famous men besides the brothers themselves, accounted for the greatest number of fine cameo glass pieces in the English field. Records were kept of many of the great works produced by Webb, and without any question, the most sought after, and deservedly so, in the cameo glass world today are pieces Signed by George or George and Thomas Woodall.
Other great men included: Jules Barbe, H. J. Boam, Thomas Bott, Frederick Carder, Tom Farmer, J. T. Fereday, Wm. Fritsche, Edwin Grice. T. Guest, James Hill, Joshua Hodgetts, F. E. Kny, H arry Kny, Ludwig Kny, F. Kretschman, Alphonse Lechevrel, Joseph Locke, J. Millward, Joseph Muckley, John Northwood II, John Northwood, Jr, William Northwood, J. M. O'Fallon, W. Orchard, Philip Pargeter, Daniel Pearce, Lionel Pearce, Apsley Pellatt, Benjamin Richardson, H. G. Richardson, Sir Benjamin Stone, and the three Sons of Thomas Webb: Thomas Wilkes, Charles and Walter Wilkes.
Pieces of English Cameo Glass, with the finest of carfing and minute detail, stand alone in the history of glassmaking as masterpieces of an era in the manufacture of glass that has never been surpassed.
Editor's Note: This is the third in a three-part series by Shiela Zwirn on Art Glass.