Iridescent Stretch Glass
by Russell & Kitty Umbraco
Rainbow Review Glass Journal - January 1974
Iridescent stretch glass is one of the most beautiful and colorful of all collectible glass. The peacock colors radiate a special glow that makes the glass so very attractive. The colors are so spectacular; that is what makes the glass so unique.
What exactly am I talking about? The definition of this special type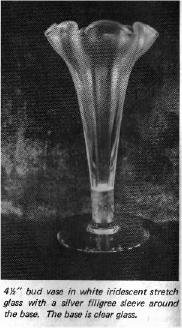 of glass is very exact and a piece of glass must meet all three requirements to be Iridescent Stretch Glass:
Pressed.
Iridescent glass with a
stretched or crepe like finish
Easy to identify? Yes, but remember the definition because there are many pieces of blown art glass, including Tiffany, that are similar; but Tiffany is BLOWN with a ground pontil and not pressed. Many people awe confusing an iridescent glass with a stretched finish the is presently being made in West Germany, but the difference is that when you turn the piece over you can see a GROUND PONTIL so you know it is not pressed glass, but BLOWN. End of lecture, and on to more exciting points, but the definition is important!
Who made Iridescent Stretch Glass and when? The Northwood Glass Company of Wheeling, West Virginia was the first to produce its line of this pretty glass after 1910 until the company closed in 1922. Northwood even signed a few pieces, not many, but that makes the signed pieces worth more, with an "N" or an "N" in a circle. The Imperial Glass Corporation of Bellaire, Ohio, started its line of Iridescent Stretch Glass "Imperial Jewels" and "Satin Iridescent Colors" in 1916 through the early twenties. Signed Imperial Glass, when found was signed with a cross with the letters inside "IM PE RI AL." The third major producer, who did not sign any pieces was the Fenton Art Glass Company of Williamstown, West Virginia. Other companies did make pieces of Iridescent Stretch Glass, but the three companies above are the major makers.
As was stated in the first paragraph, the glass colors and the iridescent glowing plus the stretch or crepe like finish make this glass very desirable to collectors. It may surprise many glass researchers to find out that within the above definition of pressed, iridescent glass with a stretched finish, Iridescent Stretch Glass can be found in many types of glass besides the relatively clear colors. The Imperial Glass Corporation made a striking milk glass swung vase with a charcoal iridescence and stretching. The Northwood Glass Company made a hat shaped compote out of custard glass with a silver iridescence and stretching. The Fenton Art Glass Company made a variety of pieces with a jade green base with an iridescence and stretching. Many beautiful opaque colors can be found in Iridescent Stretch Glass, besides the above, such as azure blue, yellow, green and cream. It can also be found in black amethyst glass with an outstanding glowing

iridescence. Fenton Art Glass Company made a line of interesting candlesticks that are from two pressed molds with the top part being clear non-iridized glass and the base being Iridescent Stretch Glass - these come in a variety of colors like a purple top and a white base and a blue top with a black base. Fenton also made lemonade sets with the body of the pitchers and glasses being Iridescent Stretch Glass. For charm, Fenton added clear royal blue applied handles to both the pitcher and glasses. There is also matching cream and sugar sets with the applied clear royal blue handles. Many pieces have hand painting and decals fired on to add extra charm to the beautiful pieces.
Although many pieces are very classical in shape, many do have very interesting designs with some even overlapping carnival glass patterns like Concave Diamonds, Imperial's Stippled Ray, Double Scroll, Imperial's 14 panels plates and bowls, Fenton's Dolphin pieces, etc. There are also patterns like Fenton's Diamond Optic, Northwood's Tree Bark base, Concentric Ribs and Fenton's Engraved pieces. Plus, a few pieces have silver plated handles and bases, but these are very scarce.
With such a beautiful variety of different pieces available to collectors, it's no wonder that Iridescent Stretch Glass is rapidly becoming very desirable with the prices also rising. Collections of Iridescent Stretch Glass are interesting and captivating. Single pieces among other types of glass add an enticing something extra that no other glass except for Iridescent Stretch Glass can add.