Fostoria's "Buttercup" Pattern
by Glenita Stearns
Rainbow Review Glass Journal - December 1973
In 1941 the Fostoria Glass Company introduced their "Buttercup" etching. Designed to complement the sterling made by Gorham of the same name, and also Spode's "Buttercup" china, it was one of Fostoria's most popular etchings.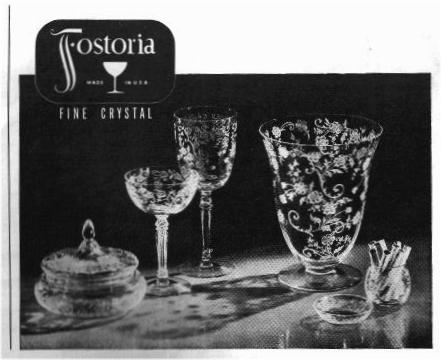 The illustration (at right) of Fostoria's "Buttercup" pattern is from an advertisement in Better Homes and Gardens for November of 1941. Shown are the blown candy jar, the 7½" vase, the cigarette holder and individual ashtray and the cocktail glass and goblet. The goblet is 8" tall and holds ten ounces. The cocktail glass is 5" tall and holds 3¼ oz.
Ten stemmed or footed goblets and tumblers were designed in this pattern. Brides of this era undoubtedly found themselves overwhelmed with drinking glasses. And if this was her chosen pattern of crystal she would probably also receive a wide variety of occasional pieces. Four different vases were produced. A six inch footed bud vase is now probably the most often seen vase, but both the six inch and seven and one half inch tall wide footed vase are found. The ten inch urn-shaped vase is seldom seen.
Bowls for every occasion can be found in "Buttercup." The 12" flared fruit bowl is a lovely piece, and with the 6" tall candlesticks makes a lovely console set. Eight inch tall, three candle candlesticks are also very lovely, but much harder to find. Two sizes of salad bowls were made, nine inch bowl and an eleven inch bowl. To complement it, a cruet was also made, and small 2" salt and pepper shakers with glass "sanitary" tops. Other table pieces included divided relish dishes, a syrup server, finger howls and plates in every imaginable size.
And if you find a bowl, flanged, six inches across and 1½" tall, it was intended for serving baked apples.
The tall, 8" comport is an elegant piece. The blown cigarette holder is only 2" tall and 1½" in diameter, and the individual ash trays are 2½" across and also blown, as is the covered candy jar.
This delightful pattern is a joy to collect. Production was continued for approximately 20 years, so some pieces can be found fairly easily. The goblets ring beautifully, and are of a shape that is easier to use that some. They are pleasant to hold and bell shaped rather than flared.
As with all Fostoria patterns, "Buttercup" was open stock and over the years it was etched onto a wide variety of pieces. The mayonnaise bowl, underplate and spoon were advertised as an "affordable luxury" in the American Home magazine in 1941. A beautiful handled oval bowl is pictured too, although I have never seen it. Etched onto Fostoria's "Sonata" pattern, this graceful floral etching is a delight to all who cherish lovely glass.