New Martinsville Glass
by Addie and Everett Miller
Rainbow Review Glass Journal - November 1973
There is a glass factory that has been producing glass since 1901 under the names of The New Martinsville Glass Mfg. Co., The New Martinsville Glass Co., and, since 1944, as Viking Glass Co. It is located on the Ohio River at New Martinsville, West Virginia.
Their Peachblow, a very high quality of Art Glass, was sold as Muranese Glass. Factory workers added the sunburst, sunglow, sunlite names to this glass. In the early 40s, two Antique Dealers coined the "Peachblow" name. Most of this glass has an iridized appearance, however, it is a gold cased glass. Joseph Webb, of the English Webb family, developed the formula and techniques for its production. A fire destroyed the original factory in 1907 and no more of this Art Glass was produced after that date. See photo at end of this article.
Pattern Glass, an "in vogue" product of this era, was produced in large amounts from 1901 to the early 20s. Two old catalogs were found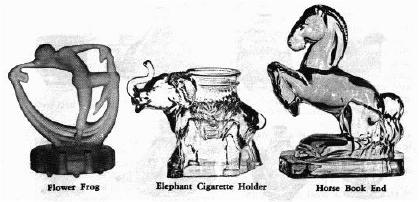 showing many patterns of a heavy pressed glass. As many as 30 different pieces were produced in some patterns, several of which were gold flashed and/or ruby stained and some were hand painted. An old Trader Journal ad lists this ware as Rock Crystal. Also, soda & bar supplies, stationery supplies, smoking sets, novelty pieces, and kerosene lamps were made. A few pieces have been found with the

trademark.
About 1915, 80 molds were purchased from the old Higbee Glass Mfg. Co. However the familiar Higbee trademark was removed as part of the purchase agreement. During World War II, the old molds were melted to make new ones. Only 2 old molds remain at the present Viking Co. - the slipper matchholder and the Rose Viking salt shaker. Colored frosted glass was made in the early 20s in vanity sets, candy jars, smoking sets, console sets, candlesticks, ice tea and water sets.
During the latter part of the 30s, this company jumped on the band wagon and produced the now popular Crystal Glass Figurines and they were made for about ten years. The animals for the stage play "The Glass Menagerie" starring Loretta Taylor and Anthony Ross in 1944 were from New Martinsville.
As well as figurines, other fine crystal was made, such as: book ends, smoke sets, vanity sets, console sets, decanters, candlesticks, baskets, and etched ware. Many of these were also made in color.
---