The Blue Stallion of Paden City
by Wanda Huffman
Rainbow Review Glass Journal - October 1973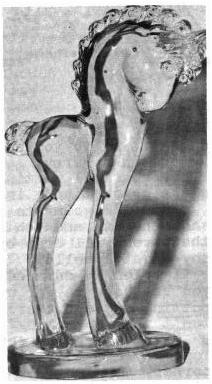 This beautiful stililon was brought to me by a lovely lady from San Diego, CA. He is blue - a light but distinct blue of the evening sky - an icy blue. He has also been made in clear glass. The lady said she had two and wanted to know if I was interested in one of them. Well, my joy was showing; I wanted them both! I just happened to have a red and a blue American Sweetheart plate and I told her I would trade one of the plates for both of The stallions. She agreed and we were both happy.
Paden City Glass was formed by a couple of former workers from Viking Glass Company. From my Correspondence, I find the stallion was made by Paden City Glass, and was also made by Viking Glass prior to 1956, not produced after that time.
Paden City Glass Company made many beautiful animal figurines and they all seem to be oversized when comparing them to other animals made by other companies.
This stallion stands on an oval base measuring 5½" long and just over 3" wide. His two hind legs and his two front legs are together with a mold mark running down the center of each, quite pronounced. Between his fore legs and hind legs is an opening reaching to his belly measuring 5½" high and just over 1" at the widest point and tapers to a V shape just under the belly. He has eight raised marks about ½" long on each side of his hooves to resemble his fetlocks. He is standing in a proud stance. From the V-shape under his belly to the top of his head, he measures 5¾".
The base he stands on is ¾" high. Overall, he is 11½" tall from his fire polished bottom up to his standing mane which comes up from the curve at the bottom of his neck where nine large curls leading toward his head each separate to form his mane. His head is laid back against his body very tightly. The mouth and nostrils are quite discernible where they lay against his chest. His eyes protrude like shiny little balls of glass carved out of the blue glass. He has three very pronounced curls that make up his tail.