Buyers Beware: Depression Glass 1973 Style
by Hazel Marie Weatherman
Rainbow Review Glass Journal - August 1973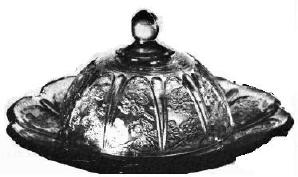 Depression Glass dealers and collectors are asked to help spread the word that brand new pink glass resembling the "Cherry Blossom" pattern is being made and is being passed off as old by some dealers.
The new glass has been made to approximate the popular "Cherry Blossom" child's set. So far, three pieces have been manufactured and sold, and two more item. are in production now.
The pieces already released are a child sized cup and a two-piece invention supposed to be a child's butter dish. There is no real butter dish to this child's set as originally made by Jeanette Glass Company in the thirties. A child's "sandwich plate" (which doesn't rightfully exist either) and a saucer for the cup are expected to hit the market any day now.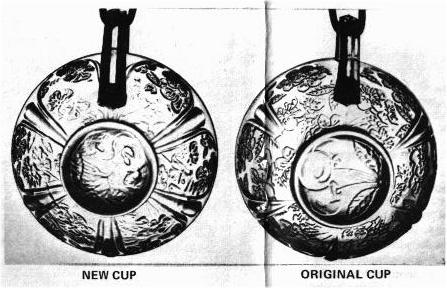 A mold-maker and spokesman for a small glass factory in New Concord, Ohio, has confirmed making the new glass, but says it is being made special order for a man in Denver, Pennsylvania. Reached by phone, this
man denied contracting for the glass. Ha did say that it was he who so1d a quantity of the items to several dealers and collectors at the Nashville Flea Market May 26-28. The dealers then placed them in their booths for sale.
People have reported buying the items at this flea market at prices ranging from $3 to $7 on the cup and anywhere from $5 to $40 on the "butter dish." In most cases, buyers were told the pieces were authentic Depression pieces, they say; in at least one instance reported to me, the seller said the items were new.
The pieces are crudely made (the mold maker said he "chiseled out" the cherry pattern} and clearly not mold-etched. A knowledgeable collector can readily discern the new from the old (see illustrations for the most obvious differences). But the disparities might be overlooked by beginning or uneducated buyers.
The color reproduction is not accurate, but again, is good enough to pass the notice of a buyer who can't immediately compare it with the original pink. Mold marks, creases and other flaws are numerous and the quality of glass is poor.
The factory spokesman said that the five pieces in question were the first "Depression Glass" pieces he has ever tried to make, and did not say whether others were being planned at this time. He did say, however, that the Pennsylvanian's order was a large one and "there's going to be a lot of these."
We cannot prevent these items from being bought and sold, but we can try to stop the practice of selling them with the intent to misrepresent. The best defense against deceit is to study well the differences in the glass and report it when you find it being sold falsely.