NDGA 2017 Convention Information
July 15-16, 2017 - Wellington, Kansas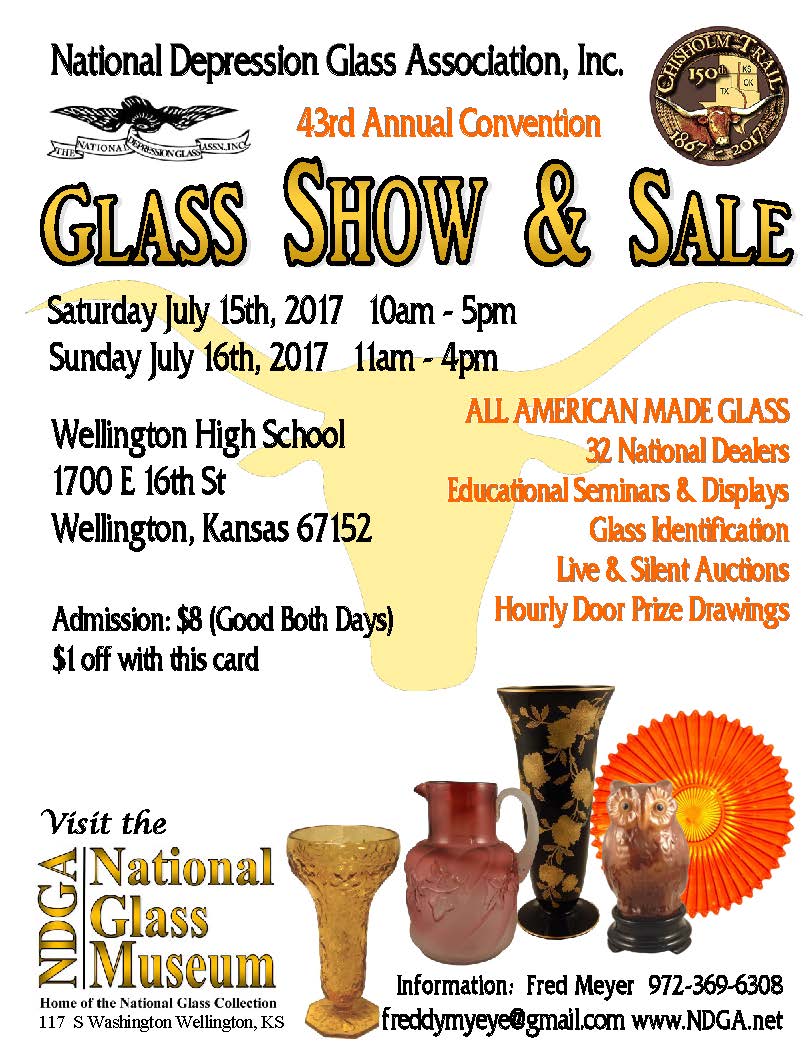 The 2017 Convention chair is Fred Meyer. He will be looking for volunteers to help at the Convention.
The schedule should be similar to past Conventions. We'll have a general membership meeting. Seminars on various topics will be presented during the Convention hours, and you know there will be a fantastic array of displays from individual collections. We will post the latest information from the Convention Chairman as it comes in, so check back for updates periodically.
In case there is any confusion, ALL GLASS LOVERS ARE WELCOME. You do NOT have to be a member of the NDGA to attend this Convention. Come one and all, bring a friend, have some fun, buy some glass and learn a whole lot about American-made glassware. Although the organization name contains the words "Depression Glass", be assured that there will be all kinds of American glass represented.
Schedule of Events
The Convention will be held at the High School in Wellington, Kansas, shown at right. Wellington is also the home of the NDGA National Glass Museum, and that is no coincidence. The NDGA invites everyone who attends the Convention to stop by and check out YOUR Museum. The high school is located at 1700 E 16th Street in Wellington.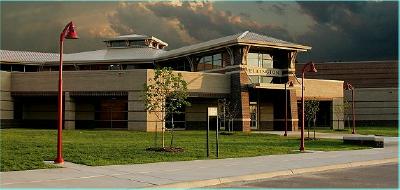 Wednesday – July 12th

10:00 am NDGA Board Meeting
Wellington Chamber of Commerce Conference Room
208 North Washington (Upper Level)

Thursday – July 13th

5:30 pm Hamburger / Hot Dog Cook-out / Get Acquainted Gathering*
Knights of Columbus Hall
201 East Harvey
*Tickets Required for cook-out

Friday – July 14th

5:30 pm Membership Meeting
First United Methodist Church
202 West Harvey Street
Ice Cream and Peach Cobbler (after meeting)

Saturday – July 15th

10:00 am – 5:00 pm Glass Show & Sale

10:00 am – 2:00 pm Silent Auction

Seminars to be announced

6 pm Banquet
Knights of Columbus Hall
201 East Harvey
**Tickets Required for Banquet

8 pm Auction ***
Knights of Columbus Hall
201 East Harvey
*** OPEN TO THE PUBLIC

Sunday – July 16th

8:00 am NDGA Board Meeting (New Board)
Wellington High School


11:00 am – 4:00 pm Glass Show & Sale,

Seminars to be announced
Stay tuned for information about special guests and authors scheduled to attend.
** Tickets for scheduled events can be ordered by completing this registration form and sending it in with your payment prior to July 1. The registration is a PDF form that allows you to type onto the form prior to printing.
National Glass Organizations
Each year, the NDGA invites representatives from other national glass organizations to participate in our Convention, each with a table with membership information for their organization and other items of interest. Please contact us if you would like to be included.
Registration
There is no registration required to attend the Show or Convention.
NDGA Annual Meeting
The Annual General Membership Meeting will be held Friday evening, permitting time for other activities Saturday evening. The meeting should last about 1 hour, and all members are encouraged to attend and participate. The newly elected Board members and Officers will be introduced and sworn in.
Live Auction
NDGA's 6th Live Auction will take place Saturday night after the banquet and promises to be the best one yet. The auction is open to the general public and should start around 8 p.m.
Silent Auction
There will be another Silent Auction during the Glass Show, to raise money for the National Glass Collection. Members contribute various pieces of glass or other items (books, etc.), to be sold in the silent auction, with the proceeds going to the NDGA National Glass Fund. We've had some interesting items in past auctions. Bring along something to donate to the auction - it's for a good cause. Use your imagination.
Glass Displays
Each year at the Convention, collectors share their personal collections of glass and pottery with the rest of us. It is often the only opportunity that we have to see some of the rare and unusual items that are in private collections. Please contact us if you would like to provide a display.
We will also exhibit additions to the National Glass Collection acquired since the last Convention.
List of Participating Dealers
Most dealers in the Glass Show portion of the Convention have been doing the shows for a number of years. The NDGA maintains a waiting list for dealers who wish to be considered. The list is maintained in date order, applications with earliest date received at the top. Prospective dealers may fill out the NDGA Dealer Application form. Prospective dealers must be a current member of the club in order to apply to do the convention show. Please click here to join the NDGA.
Browse through our previous conventions to appreciate the variety of our dealers.
Hotels & RV Parks
Oak Tree Inn
1177 E 16th Street
Wellington, KS 67152
620-326-8191
This is the Convention Host Hotel. For special convention rates, call the Inn and ask for the NDGA Convention Rates. The Inn has two sites and both are located close to the convention.


Hampton Inn & Suites I-35/Mulvane
785 Kansas Star Drive
Mulvane, KS 76110
316-209-7889
A block of rooms have seen set aside for the NDGA 2017 Convention. The following information is needed for room reservations and rates.
Group Name: National Depression Glass Annual Convention
Group Code: NDG
Check In: 13 July 2017
Check Out: 16 July 2017


Sleep Inn / Haysville, KS
651 E 71st St. South
Haysville, KS 67060
316-425-6077

Sunshine Inn
1001 East 16th Street
Wellington, KS 67152
620-326-8944


Steakhouse Motel
1311 East 16th Street
Wellington, KS 67152
620-326-2266

RV Parks for 2017 NDGA Convention
KOA
100 South KOA Drive
Wellington, KS 67152
620-326-8300


The Oasis RV Park
Hwy 166 at I-35 - Exit 4
1592 South Seneca Road
South Haven, KS 67140
620-892-5115

Other Convention Activities
For those coming to the convention and feel like the local activities are not enough and the show/sale isn't going to be enough to take care of your glass "sickness", consider checking out some of the antique malls in the area.
Paramount Antique Mall
Over 225 booths
14200 W. Hwy 54 (Kellogg)
Wichita, KS

Paramount East Antique Mall
Over 100 booths
10187 SW Hwy 54
Augusta, KS
Paramount Market Place
6297 E. 13th Street
Wichita, KS

2 Attics Antique Mall
1530 E. 61st North
Park City, KS
Flying Moose Antique Mall
100+ booths
9223 W. Hwy 54 (Kellogg)
Wichita, KS

Metcalf Sisters' Antiques & Collec.
80 booths
224 N. Main (I-135 Exit 31)
Newton, KS
A Legacy Antique Mall
2 Floors
105 S. Emporia St
Wichita, KS

Paper Moon
317 Commercial Street
Emporia, KS
Bondie's Old Town Antique Mall
822 E. Central
Wichita, KS

Andover Antique Mall
656 N. Andover Rd
Andover, KS
Hewitt's Antiques
(downtown)
228 N. Market
Wichita, KS

Cross Eyed Cow
601 State Street
Augusta, KS
Ashby's Antique Mall
2 Floors
110 N. Main Street
Blackwell, OK