NDGA 2016 Convention Information
July 16-17, 2016 - Tiffin, Ohio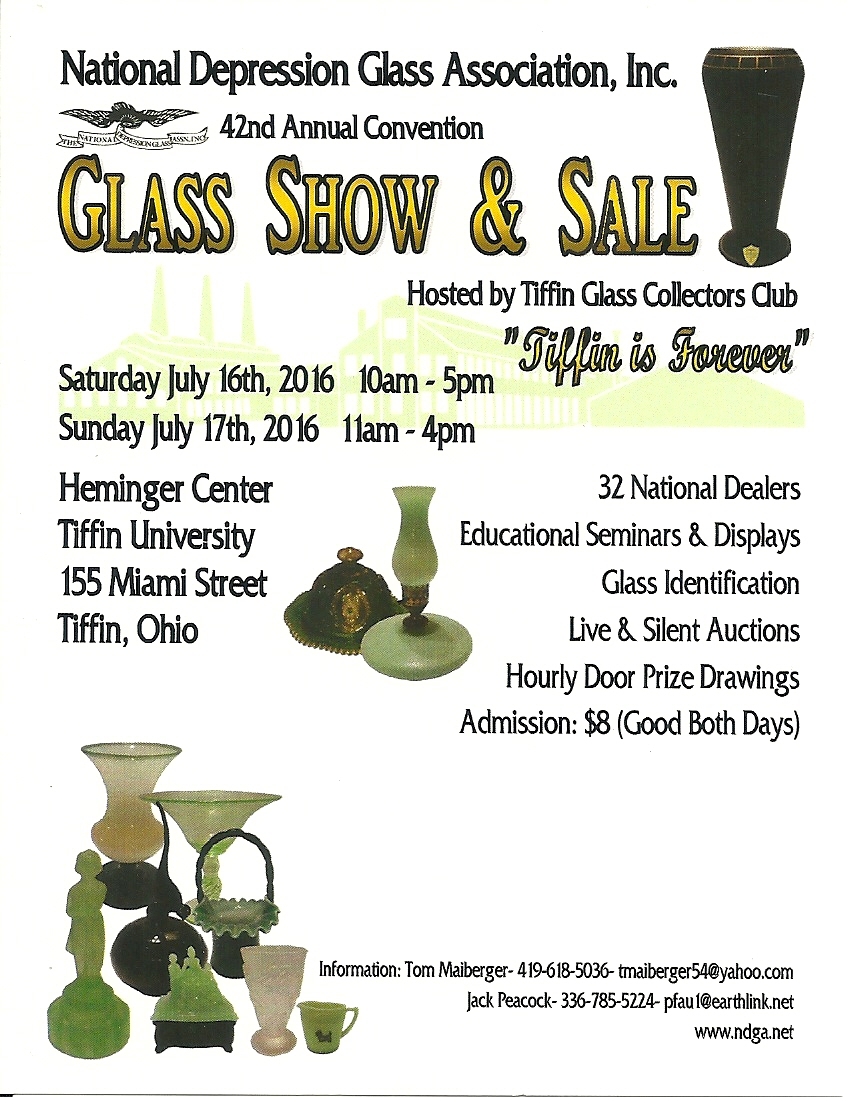 The 2016 Convention co-chairs are Tom Mailberger and Jack Peacock. They will be looking for volunteers to help at the Convention.
The schedule should be similar to past Conventions. We'll have a general membership meeting. Seminars on various topics will be presented during the Convention hours, and you know there will be a fantastic array of displays from individual collections. We will post the latest information from the Convention Chairman as it comes in, so check back for updates periodically.
In case there is any confusion, ALL GLASS LOVERS ARE WELCOME. You do NOT have to be a member of the NDGA to attend this Convention. Come one and all, bring a friend, have some fun, buy some glass and learn a whole lot about American-made glassware. Although the organization name contains the words "Depression Glass", be assured that there will be all kinds of American glass represented.
Schedule of Events
The Convention will be held at Tiffin University's Heminger Center, conviently located at 155 Miami Street, Tiffin, Ohio.
Friday – July 15th

5:30 pm Membership Meeting

Saturday – July 16th

10:00 am – 5:00 pm Glass Show & Sale

10:00 am – 2:00 pm Silent Auction

* see seminar listing below

6 pm Banquet, followed by Live Auction

Sunday – July 17th


11:00 am – 4:00 pm Glass Show & Sale,

*see seminar listing below

Seminar listing:

* The Tiffin Glass Company - From the Inside by Mike Carlson and Martha Ziegler
* Bedroom and Bathroom Glass by Margaret and Kenn Whitmyer
* American Iridescent Stretch Glass by Dr. David shetlar
* Indiana Glass - The Depression Years by Craig Scheming
* Steuben - The Modern Years by Tom Felt and Bob O'Grady

Among the authors who will be present at the show are Tom and Neila Bredehoft who have authored over a dozen books, 50 monographs, and hundreds of articles on american Glass. Tom and Neila will also be conducting glass identification. Ed Goshe who has authored or co-authored at least 6 books on Tiffin and US Glass will be one of our dealers. Craig Schenning author of "A Century of Indiana Glass" will be there signing his latest book which will be hot off the press at the time of convention. Stay tuned for more to come.
National Glass Organizations
Each year, the NDGA invites representatives from other national glass organizations to participate in our Convention, each with a table with membership information for their organization and other items of interest. Please contact us if you would like to be included.
Registration
There is no registration required to attend the Show or Convention.
NDGA Annual Meeting
The Annual General Membership Meeting will be held Friday evening, permitting time for other activities Saturday evening. The meeting should last about 1 hour, and all members are encouraged to attend and participate. The newly elected Board members and Officers will be introduced and sworn in.
Live Auction
NDGA's 5th Live Auction will take place Saturday night after the banquet and promises to be the best one yet. The auction is open to the general public and should start around 7:30 p.m.
Our auctioneers are a wonderful husband and wife team that will certainly have an impact on your funny bone. Last year the auction was such a close race between the two that Pam offered food with each purchase. They compete against one another for bragging rights each year as top auctioneers.
Items donated are given with 25% to 100% of the proceeds going to the Museum Support Fund. If you have an item that you would like to donate for the next Live Auction, email Danny Cornelius.
Here is a PDF of the most current listing for the Live Auction at convention. This list is alphabetical, and not the order the items will be auctioned.
Remember, proceeds will go to the Museum Support Fund to help keep the museum up and running.
Silent Auction
There will be another Silent Auction during the Glass Show, to raise money for the National Glass Collection. Members contribute various pieces of glass or other items (books, etc.), to be sold in the silent auction, with the proceeds going to the NDGA National Glass Fund. We've had some interesting items in past auctions, including a set of tire chains! Bring along something to donate to the auction - it's for a good cause. Use your imagination.
Glass Displays
Each year at the Convention, collectors share their personal collections of glass and pottery with the rest of us. It is often the only opportunity that we have to see some of the rare and unusual items that are in private collections. We will also exhibit the additions to the National Glass Collection acquired since the last Convention.
List of Participating Dealers
Most dealers in the Glass Show portion of the Convention have been doing the shows for a number of years. The NDGA maintains a waiting list for dealers who wish to be considered. The list is maintained in date order, applications with earliest date received at the top. Prospective dealers may fill out the NDGA Dealer Application form. Prospective dealers must be a current member of the club in order to apply to do the convention show. Please click here to join the NDGA.
Here are the dealers scheduled to attend for 2016.
Fibber McGee's Closet
Maria Curow/Priscilla Southworth
Dpahne, AL

Depression Classics
Pam & Bob Franscella
Gurnee, IL

Curio Cabinet Antiques
Janet & Wanda Wasson
Highland, IN

Carol L. McEwen Estate
Melissa Leslie & MaryLou Moreland
Wichita, KS

Helen Allen Antiques
Helen & Gene Allen
Overland Park, KS

R & J's Antiques
Ron & Judy Druse
Topeka, KS

Thirties Premiums
David Hollingshead/Adam Headley
Kansas City, KS

A Few Old Things
Autley & Kathy Newton
Hammond, LA

Gregg Jones Glass
Gregg Jones
Waterford, MI

King's Antiques
Larry King
North Street, MI

Don Rogers Glass
Don Rogers
Wentzville, MO

Glassware & Collectivles
John & Dovie Fields
Independence, MO

Jonathan Fields Glass
Jonathan Fields
Independence, MO

Pretty Things
Tim Cantrell
Springfield, MO

Carolina Antiques
Jack Peacock
Winston-Salem, NC

Memories Antiques
Edward Sawicki
Dunellen, NJ

Brandon Riggans Antiques
Brandon Riggans
Byesville, OH

Glass by Goshe
Ed Goshe
Tiffin, OH

Haugh's Glass
Gene & Jodi Haugh
Tiffin, OH

Hrics Glass
Paul & Carol Hrics
Highland Hts, OH

Margaret Lane Antiques
Lynn Welker
New Concord, OH

L & M Glassware
Michael & Leegh Wyse
Albany, OR

DNL Antiques
Dee & Larry Sacherich
Greensburg, PA

Leasures Treasures
Jim & Leora Leasure
Eighty Four, PA

Max Miller Antiques
Max Miller
Houston, TX

Showcase Glass
Bert & Donna Kennedy
Mesquite, TX

50 West Antiques
Steve & Donna Spaid
Winchester, VA

Karen Dunavant Glass
Karen & Randy Dunavant
Spotsylvania, VA

The Attic Annex
Jim & Joyce Coverston
Front Royal, VA

Backward Glances
Bob & Helen Jones
Berkeley Springs, WV

Enid's Glassware
Enid and Len Waska
Flatonia, TX
Hotels & RV Parks
Information will be added as it becomes available.
OTHER CONVENTION ACTIVITIES
For those coming to the convention and feel like the local activities are not enough and the show/sale isn't going to be enough to take care of your glass "sickness", we'll be adding a list of other activities.