NDGA 2013 Convention Information
July 13-14, 2013 - Wellington, Kansas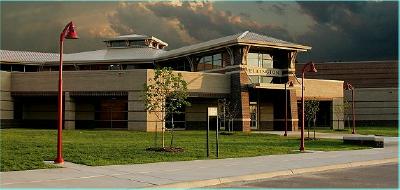 The 2013 Convention Chairperson is Pam Meyer. She has been planning this for quite some time, as she is also the Media Coordinator for the NDGA National Glass Museum. She will be looking for volunteers to work at the Convention, and will be naming a Display Coordinator to handle the displays. Send her an email if you're willing to help.
The Convention will be held at the High School in Wellington, Kansas, shown at right. Wellington is also the home of the NDGA National Glass Museum, and that is no coincidence. The NDGA invites everyone who attends the Convention to stop by and check out YOUR Museum. The high school is located at 1700 E 16th Street in Wellington.
The schedule should be similar to past Conventions, with a general membership meeting on Saturday afternoon, about a half hour after the glass show closes. Seminars on various topics will be presented during the Convention hours, and you know there will be a fantastic array of displays from individual collections. We will post the latest information from the Convention Chairmen as it comes in to us, so check back for updates periodically.
Click here for the Official Convention Registration Form
2013 Convention Update
Where to start! When we first started working on the 2013 convention way back in early 2012, we were brain storming with Shelley Hansel-Williams, head of the Wellington Chamber of Commerce & CVB who asked us (NDGA) to participate in the Friday night Wheat Festival parade. Of course we will!!!!! Now, who do we get to take charge of planning a parade float. We had to have a theme, then we had to figure out where we would get wheels. Can't have a float without wheels. Next we needed someone who lives in the area to pull this together. Danny appointed Lisa Allton from Wellington to head up this project. It is very fortunate that Lisa is married to a very talented builder so her plans don't have to be limited. Plus, they have wheels for the float.
Lisa has some early sketches for a terrific float. The theme is still a surprise and will come in a future issue of News & Views. But, I can say it features one of our guest authors. Now, if any of you are so inclined, Lisa would love to have some volunteers to help put this float together. There will be some painting involved I'm sure and what fun to get down and dirty with a group of fun loving friends. You can call her at 620-399-0394 if you are planning on coming to town early and would like to help with this project.
Time is flying and convention will be here before we know it. Start making your plans to join us in a lot of fun. Be sure you get your reservations back to me for the banquets and get your hotel reservations in order. Don't forget to think about that live auction on Saturday night! We are still looking for good pieces of glass to sell.

All are WELCOME !
In case there is any confusion, ALL GLASS LOVERS ARE WELCOME. You do NOT have to be a member of the NDGA to attend this Convention. Come one and all, have some fun, buy some glass and learn a whole lot about American-made glassware. Although the organization name contains the words "Depression Glass", be assured that there will be all kinds of American glass represented.
Schedule of Events
The show and sale will open at 10:00am on Saturday, July 14. It will run until 5:00pm, after which there will be a half-hour break, followed by the Annual Membership Meeting of the NDGA (about 1½ hours). Newly elected Board members and Officers will be introduced and sworn in. All NDGA members may participate in the meeting. On Sunday, July 15, the Convention opens at 11:00am and closes at 4:00pm.
Special Guest
Barbara Mauzy, Author of numerous Glass Reference Books
Craig Schenning, Author of books on the Indiana Glass Company
Seminars and Speakers
Saturday
11:00 am--Leora Leasure--Mid Century Modern Glass from the Old Morgantown Glass Company
1:00 pm--Dean Lowry--Introduction to Glass for All Ages
3:00 pm--Barbara Mauzy--Passing on the Passion
Sunday
12:00 pm--Helen Jones--Canton Glass Company's Casual Line
2:00 pm--Craig Schenning--Indiana Glass, The First Fifty Years (1896-1946)
National Glass Organizations
Each year, the NDGA invites representatives from other national glass organizations to participate in our Convention. The following organizations were represented in 2012, each with a table with membership information for their organization and other items of interest. We hope that they found this relationship agreeable and hope that they will return in 2013.
Fostoria Glass Society of America, Inc.

Museum of American Glass In West Virginia

National Cambridge Collectors, Inc.

National Duncan Glass Society, Inc.

National Greentown Glass Association

National Imperial Glass Collectors Society Inc.

National Reamer Collectors Association

Old Morgantown Glass Collectors Guild

Tiffin Glass Collectors, Inc.

Heisey Collectors Of America

National Westmoreland Glass Collectors Club

Indiana Glass Museum of Dunkirk Indiana

Stretch Glass Society

National Fenton Glass Society

Early American Pattern Glass Society
NDGA Annual Meeting
The Annual General Membership Meeting will be held in conjunction with the Convention. It begins at 5:30pm on Saturday. The meeting should last about 1½ hours, and members are encouraged to attend and participate. The newly elected officers and Board members will be introduced at this time.
Live Auction
The 2013 Convention will hold a live auction again this year at the end of our Saturday night banquet. We are accepting a few really nice pieces of glass to sell. At this time we have 7 or 8 great pieces that will be up for bid. The proceeds will go to the Museum Support Fund to help keep our museum up and running.
A person placing a piece in our auction has the option of donating the entire proceeds to the Museum Support Fund or placing their piece for sale with 25% of the sale amount going to the Museum Support Fund. I have a form for a seller to fill out and sign letting us know how they wish us to proceed.
We are looking forward to a fun auction with Bob and Pam Franscella being the auctioneers. Last year they volunteered to sell our items and had a bet as to which one could bring in the most money from the items they sold. The contest is on again this year. They are fun and entertaining and they make the auction not only a great place to find a wonderful piece of glass but a very fun way to spend an evening. Please contact me if you have a piece you would like to donate or sell and please email me a picture. We hope you will join us for a fun filled evening.
Silent Auction
There will be another Silent Auction during the Glass Show, to raise money for the National Glass Collection. Members contribute various pieces of glass or other items (books, etc.), to be sold in the silent auction, with the proceeds going to the NDGA National Glass Fund. We've had some interesting items in past auctions, including a set of tire chains! Bring along something to donate to the auction - it's for a good cause. Use your imagination.
Glass Displays
Each year at the Convention, collectors share their personal collections of glass and pottery with the rest of us. It is often the only opportunity that we have to see some of the rare and unusual items that are in private collections. This year will be no exception. We will also exhibit the additions to the National Glass Collection acquired since the last Convention.
List of Participating Dealers
Most dealers in the Glass Show portion of the Convention have been doing the shows for a number of years. The NDGA maintains a waiting list for dealers who wish to be considered. The list is maintained in date order, applications with earliest date received at the top. Prospective dealers may fill out the NDGA Dealer Application form. Prospective dealers must be a current member of the club in order to apply to do the convention show. Please click here to join the club.
Below are listed the dealers who exhibited their glass for sale in Kokomo in 2012. The list may change for 2013 - we will post updates as they come in.
L & M Glassware
The Attic Annex
Helen Allen
Michael & Leegh Wyse
Jim & Joyce Coverston
Helen & Gene Allen
Albany, OR.
Front Royal, VA.
Overland Park, KS.
The Glass Chalet
Max Miller Antiques
The Bookworm
Sandra Bridwell-Walker
Max Miller
Enid & Len Waska
Cleburne, TX.
Houston, TX
Flatonia, TX.
Leasures Treasures
Ray & Paula Mahoney
Backward Glances
Jim & Leora Leasure
Tarpon Springs, FL.
Helen & Bob Jones
Eighty Four, PA.
Berkley Springs, W.V.
Regal Collectibles
Antiques Glassware & Collectibles
White Rose Antiques
Myrtle & Charlie Riggle
Dovie & John Fields
Glen & Carolyn Robinson
Hebron, IN.
Independence, MO.
York, S.C.
Hemmann's Krystal Hays
Stan & Diane Depression Glassware
J & L Treasures
Mike & Cathy Hemmann
Diane & Stan Sewell
Linda & Jim Kilburn
St. Clair, MO.
Poughkeepsie, N.Y.
Burlington, CT.
Memories Antiques
Carolina Antiques
McEwen Extras
Ed Sawicki
Jack Peacock
Carol McEwen
Dunellen, N.J.
Winston-Salem, N.C.
Wichita, KS.
Red Apple Antiques
Showcase Glass
No Horse Antiques
Dale & Betty Buersmeyer
Bert & Donna Kennedy
Sandi & Dennis Boone
Pacific, MO.
Mesquite, TX
Aledo, IL.
Crockett's Collectibles
J & S Antiques
Depression Classics
Crockett & Cathie Richardson
Jane & John Schleinzer
Pam & Bob Franscella
Harkers Island, N.C.
Aurora, IL
Gurnee, IL.
Rae Patrick Ent.
Net_Tiques
D N D Antique Glass
Sharon & Pat Ervin
Helene & Coy Meeks
Don Jones & Danny Cornelius
Sycamore, IL.
Oregon, IL.
Port Washington, OH.
Hattie's Place
Our House Antiques
Tucker's Treats & Antiques
Rick Bakkum
Linda & David Adams
Dave & Kay Tucker
Buffalo, MO.
Las Vegas, NV.
Cottage Hills, IL.
Curio Cabinet Antiques
Kitschy Cat Antiques
Janet Wasson
Jim & Rose Curnett
Highland, IN.
Western Springs, IL.
Hotels & RV Parks
Oak Tree Inn
1177 E. 16th Street
Wellington, KS 67152
(620) 326-8191
The Oasis RV PARK
Hwy 166 at I-35 – exit 4
1592 S. Seneca Rd.
South Haven, KS 67140
(620) 892-5115

Sunshine Inn
1001 E. 16th Street
Wellington, KS 67152
(620) 326-8944
KOA
100 South KOA Dr
Wellington, KS 67152
(620) 326-8300

Chisholm Trail Inn
315 W. 8th
Wellington, KS 67152
(620) 326-2255
Hampton Inn & Suites
Kansas Star Drive
Mulvane, KS 76110
316-524-3777
NDGA Hampton Inn Webpage
Steakhouse Motel
1311 East 16th
Wellington, KS 67152
(620) 326-2266
In the last issue of The News & Views, the above list of motels were available in Wellington. Since then I've gotten information on the new Hampton Inn & Suites at the Kansas Star Casino just 15 miles north of the convention site. The Hampton has agreed to be our convention hotel. The hotel is located between I-35 Kansas Turnpike and Hwy 81. You can enter the property from either highway.
Arrangements have been made and rooms have been set aside for the NDGA Conventioneers.
Call 316-524-3777. Be sure you use NDG(A) as your code to get your discounted rate. The hotel is discounting the $119.00 room to $99.00 which includes a full hot breakfast. Good news the Hampton Inn allows pets.
It's time to start thinking about making your reservations. We want to see you there.
OTHER CONVENTION ACTIVITIES
For those coming to the convention and feel like the local activities are not enough and the show/sale isn't going to be enough to take care of your glass "sickness" the following is a list of the area antique malls and shops.
Paramount Antique Mall
- 48,000 sq. ft., 225+ dealers
123200 W. Kellogg (Hwy 54), Wichita, KS
Open Monday - Friday 10-7, Sat. 10-6 and Sun. 12-6
316-722-0500

Paramount East Antique Mall 22000 sq. ft.
101876 SW Hwy 54 (East Kellogg), Augusta KS
Open Monday - Friday 10-7, Sat. 10-6 and Sun. 12-6
316-775-3999

A Legacy Antique Mall
105 S. Emporia, Wichita, KS
Open Monday - Friday 10:30-5, Sat. 10:30-6 and Sun. 10:30-5
316-267-2730

Andover Antique Mall
656 N. Andover Rd,
Andover, KS
Monday - Saturday 10-6 and Sun. 1-5
316-733-8999

Collections Antiques Shop
12316 E. 61st St. North
Thursday-Saturday 10-5
316-744-8069

Delano Antique Mall
1642 W. Douglas, Wichita, KS
Open Tuesday-Saturday 10-7
and Sunday 12-5
316-265-0186

Hewitt's Antiques & Shopkeepers Mall
228 N. Market, Wichita, KS
Open Monday-Saturday 9:30-5 and Sun. 1-5
316-264-2450

Paper Moon Antiques
1940 W. 13th St, Wichita, KS
Open Wednesday-Saturday 10-5
316-440-4560

2 Attics Antique Mall
1534 E. 61st St. North, Park City, KS
Open Monday - Friday 10-6, Sat. 10-5 and Sun. 1-5
316-201-1828

Bondie's Old Town Antique Mall
827 E. Central, Wichita, KS
Monday-Saturday 10-5 and Sun. 1-5
316-267-0900

Flying Moose Antique Mall
9223 W. Kellogg, Wichtia, KS
Tuesday-Friday 10-7, Sat. 10-5 and Sun. 1-5
316-721-6667

Pigeon's Roost Mall
601 N. State St., Augusta, KS
Open Monday-Saturday 1-5 and Sun. 12-4
316-447-2279

Ashby's Antique Mall
110 N. Main, Blackwell, OK
Open Monday-Saturday 10-5 and Sun. 12-5
580-363-4410

T's Treasures of Yesterday & Today
1542 E. 61st St. North, Park City, KS
Open Wednesday & Thursday 11-4, Fri. & Sat. 1-5
316-744-0023
Lots of good shopping to make everyone happy!
HAPPY HUNTING!
The F. Price Crossman Memorial Trust Collection of Steuben Glass
at the Wichita Art Museum
The Wichita Art Museum presents a growing collection of glass that focuses on Steuben. The unique assemblage includes a donated private collection of more than 200 goblets and other pressed glass and a growing collection of historic and contemporary examples of Steuben Glass. The Wichita Art Museum is located at 1400 W. Museum Blvd., Wichita, KS.
The museum hours are Tues - Sat 10-5 and Sun 12-5. Closed on Mondays. Admission is $7.00 adults, $5.00 for seniors (60+) and $3.00 for students with ID and youth (ages 5-17). Children under 5 are free. SATURDAY - FREE ADMISSION.
Click Here for More Information