Indiana Glass Company`s Willow (aka) "Oleander"
By Leonette A. Walls, Ed. D. (Updated 12/03)
Since research of unidentified and unpublished patterns is one of my passions, it seems appropriate to share what I have learned to date about an Indiana Glass Company pattern called Willow, sometimes noted as WOM. The most difficult and frustrating part of research is almost always the wait for results adequate enough to make a definitive report. In this case, work began in 1998 and new information is always being investigated. The unique ways that documentation is gathered are indeed awesome; it seems that some invisible magnet draws the pieces of the puzzle into place.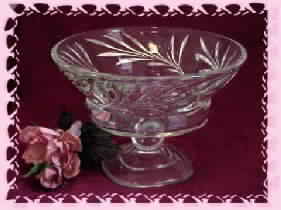 Research began in the identification of a pattern that continues to be seen more frequently in malls, shops and shows. There are three ever present questions: What is this pattern? Who made it? When was it made? In May, 1998, the question of "Who?" was answered when a large console bowl was seen in an antique mall in Springfield, Ohio. The bowl bore the "Original " label, indicating that this pattern was made by Indiana Glass. As so often happens, researchers money supplies are often limited or the price prohibits purchasing. Both situations were true in this case, after a great buying trip which had already gotten out of hand, as many dealer and collectors have experienced.
Even though the glassmaker had been identified, this was only a fraction of the information needed. After meeting Melissa Miller in February, 1999, we began to communicate by e-mail about our common interest in Willow. Through a series of e-mails, the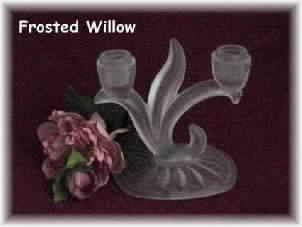 teamwork began to develop. Photographs were sent via e-mail from Ms. Miller, who had reported that she had heard that the name was "Oleander." This seemed an appropriate name for the leaf cut design. Through a cooperative research relationship with Dunkirk Glass Museum in Dunkirk, Indiana, Indiana Glass catalogs were obtained that contained an example of the pattern in question. The only problem was that despite the great documentation, there was no pattern name given. The sugar bowl was listed only as a promotional item. To further cloud the correct naming of the pattern, two examples of the pattern labeled "Oleander" were seen in a Northwest Arkansas antique mall. Within two days, a piece was seen at a glass show labeled "Willow." In questioning the dealer, Denise Germer from Houston, Texas, told about coverage in an issue of the Daze, February, 1979, that featured Willow. Ms. Germer was kind enough to send that article, supplied by Mrs. Virgie Ott, a Willow (Oleander) collector from Gretna, Louisiana. Published in this article was a note from Arthur L. Hardeman, Assistant to the President of Indiana Glass;. Mr. Hardeman related that the pattern was line # 1008, having been introduced in the 1930's in crystal only, being hand made, and continued in production for a number of years. In viewing what are obviously sketches from a catalog, it is noted that a number of pieces had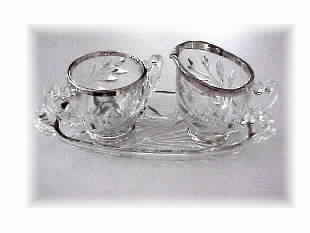 ground bottoms. For those who examine many Indiana Glass items, the characteristic of heavy glass is present, but finding pieces with ground bottoms will surprise many. Also, the elegance of many of the items will catch the eye of Depression Era glass lovers. One of the perplexities is the paradox of Mr. Hardeman's statement about being only crystal items being produced and the frosted items (e.g. Candlestick, above) that have been seen. The question will be pursued in further studies. The frosted items are seen occasionally, but normally, I pass those by. These pieces do not excite me, but some collectors enjoy them.
More pieces are being seen at shows, antique malls and other venues. The bulk of the pieces seen are crystal. Some collectors collect only the crystal pieces. At the present, sugar and creamers abound, with other larger, more interesting items being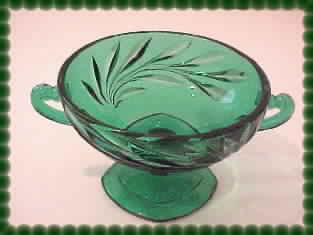 seen. Cranberry and yellow flashing in the cuttings and platinum decorations (at right) have also surfaced in the crystal and frosted items.
One of the most beautiful colors is an Emerald Green (at left) which I believed initially might have been a Tiara product. Mr. Harshman does not mention any items other than crystal in the afore mentioned Daze article; however, after purchasing a Constellation piece in what appeared to be green in a Ron Teal volume on Tiara, I quickly saw that the greens were totally different. The Constellation green leans more blue into the color mix eliminating the color premise I once held. Felt/Stoer in their Glass Candlestick, Volume Two report that green candle vase was sold by Butler Brothers as as Magnolia Leaf. The probable dates given by the authors is the 1950s. Butler Brothers was a wholesaler of General Merchandise, beginning in 1877 in Chicago Illinois. However, I have not located information as to how long the company was in business, nor exact dates for this product.
In November, I attended a Tiara reunion organized by a number of former people from direct sales and regional directors. Ralph Waddell of Muncie, Indiana, General Manager of Tiara from 1978 until its closure, was also in attendance at the Tiara gathering. In discussing my questions about the green Willow, Mr. Waddell did not recognize Willow as a Tiara product. Mr. Waddell did relate that he thought the emerald green was an older color, at least prior to 1966, when he was first employed at Indiana Glass. To me, one of the most intriguing item of information was to learn that Indiana Glass had not sold molds. The importance of this fact is that all these products, whether Willow, Oleander, or Magnolia (Leaf) would have been made by Indiana Glass. This leads me to surmise that these items sold as Oleander and Magnolia (leaf) were some kind of special order for these vendors.
At the same meeting, I had the wonderful opportunity of examining a collection of Tiara catalogs and flyers from Tiaras beginning. In my short, but intense time of searching, no Willow was found. It is infinitely more fun to find information that backs up my calculated guesses, but finding out correct information is far more important. A number of items in this gorgeous green color have been collected including: footed candy dish with cover, small footed candle bowl, sugar/creamer/tray, large shallow console bowl, flat bottomed covered candy (three part bottom), rectangular center bowl, and a footed comport (footed candy without a lid), plus the two light candlestick and candle vase noted by Felt/Stoer. A footed Milk Glass comport was purchased in Colorado, but, again, there is no connection with the Tiara line.
The reports of the pattern by both Willow and Oleander had been puzzling, especially after receiving the article verifying the name as Willow. While in the Tulsa Flea market, I spotted a page in a scrapbook belonging to Nancy Goddard of Eufaula, Oklahoma. Graciously, she sent a copy of a Montgomery Ward catalog page clearly calling this pattern "Oleander." In my report in 2000, no date was available for the catalog page. Thanks to Sharon and Patrick Ervin, I now possess a copy of a page from the 1951 Spring and Summer Montgomery Ward catalog offering " Oleander "items for sale. This is an additional page than the first one showing the punch bowl set. An acquaintance of mine just recently recognized a piece of Willow in my home as being "her punch bowl pattern." After my sharing the name of the

pattern and its background, she related that the punch set was a wedding gift to her parents in 1947. Such bits of information help to fill in gaps as to the time frame of production of the punch bowl set.
On an accompanying page in the Montgomery Ward catalog is a lazy susan in the Laurel pattern by Indiana Glass that certainly would fit as a very nice "go with". Simularities in the two patterns often lead to confusion; however, the cuts in the Willow design are larger and deeper than Laurel. There are other "look alikes", but these can clearly be recognized as not being Willow by a serious collector who has studied the design characteristics.
Walter M. Apprel, former sales representative presented me with an Indiana Glass Catalog which is not dated, but is pre-zip code onset. This catalog shows the Willow salad plate and the sugar and creamer, bearing the 1008 line number. This is an indicator that Willow was still in production in the 1960's. The sugar bowl was sold as a promotional item, which accounts for the untold numbers of the piece. Ralph Waddell said such items were sold at a very low price and were referred to as Ahash glass.
One of the most common errors seen in shops and malls is to label Willow as a Fostoria product. To date, there has been no ready reference available for identification and pricing. It is my personal opinion that accurate pricing will only occur after significant items are marketed and a track record is established. Inclusion in a book for the first time will give us some guidance, but only time will tell what the "real" price range will settle into eventually. Current pricing in the market place does not appear to have settled into a median price. At this time, my decision to purchase a piece of Willow based on my comfort with the price and my past experience with similar items. On occasion, I have paid more than the item seemed to be worth because of a desire to have the item. Oftentimes, the dealer may not be totally convinced that I know what I am doing and may be unwilling to "deal." A pair of double candlesticks have been in the same location in a booth for over three years with an price that was not in line with what I have been paying. After a number attempts to contact the dealer, an offer was made and I now proudly own the candle pair that I had drooled over many times. Sad to say, but I have walked away from pieces that I would love to have because of out of line pricing. My saddest story is the Willow vase that I found, but somehow just could not bring myself to pay $75, now twice I let an eBay auction end without my close scrutiny, and I lost out on my chance to own the vase, again. Oh, well - the search goes on. Other pieces are being researched and will be reported in a later article. As more comes information to light, Willow will be one of the shining stars for the future!
Webmaster's NOTE: The NDGA wishes to thank Dr. Leonette Walls for permission to use this article. Dr. Walls is a retired glass dealer, music teacher and enthusiastic researcher.