Todd Baum has graciously offered to share photographs of his collection of McKee art glass items, and we've selected a few to display here. Previously, we had a link to Todd's AOL page which had additional photos. Unfortunately, the AOL page no longer exists.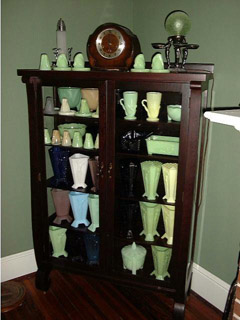 The case at left shows Todd Baum's collection of pieces of McKee's art glass vases and other items. These pieces were all made in the 1930's. At the time, McKee manufactured quite an assortment of kitchen items, as well as several tableware lines and other specialty glass items. The McKee Glass Company was around for a long time, originally founded in Pittsburgh, PA, in the 1850's. In 1888, the company moved to Jeanette, PA, and continued to produce glass into the 1960's, when eventually it was bought by Jeanette Glass Company and became the main factory for Jeanette in 1962.
McKee produced the above art glass vase in a number of colors, many of which are shown on Todd's web page referred to above. This one features a nude figure, and the color of the vase is called "chalaine blue".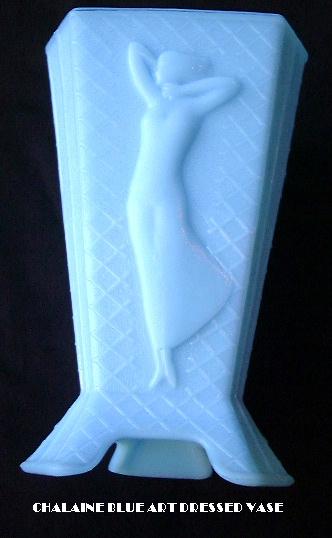 In the photograph above is another "chalaine blue" vase, but this one has the figure "dressed" as opposed to nude, as in the previous example.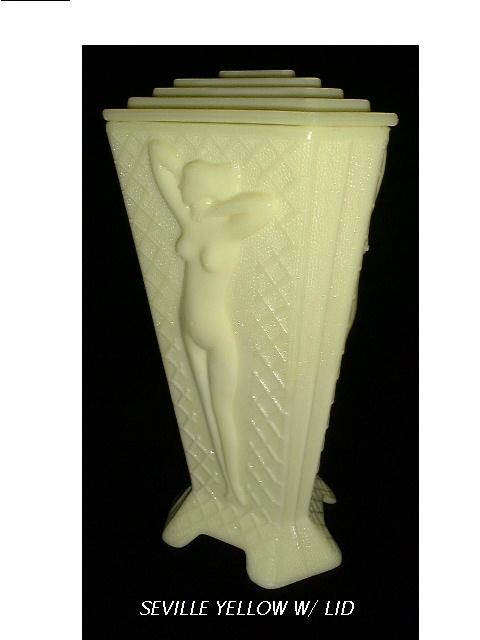 Above is the nude vase in "seville yellow". Notice that this one came with a lid. You don't often see these pieces with a lid. This was a very nice find. Todd has several others with lids pictured on his web page.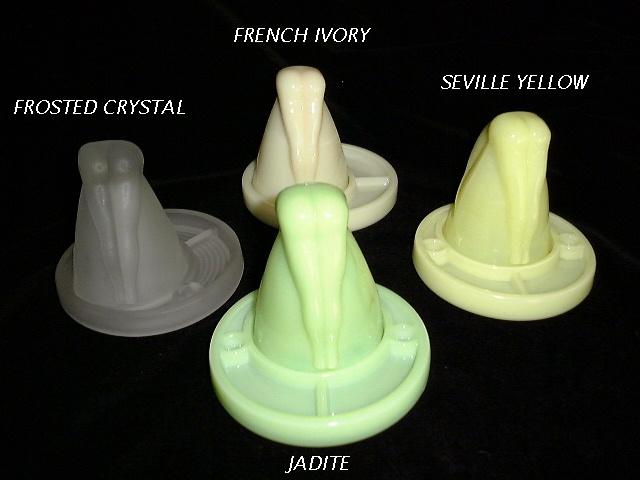 Now this is an interesting photograph. McKee made these "Bottoms Up" sets in a number of colors, including the frosted crystal one seen at left. Notice the matching glass coasters. All of the pieces shown in this photograph are genuine old McKee pieces. Unfortunately for collectors, in recent years, the "Bottoms Up" glass has been reproduced.