Cornflower by Pyrex
by April Tvorak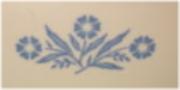 Cornflower pattern by Pyrex is becoming more collectible and is not being produced any more. Since the price of Fire-King has risen so drastically, more and more collectors are looking for a reasonably priced usable kitchen ware line. We have not pinned down the exact date the Cornflower was produced, but one person said she had bought hers around 35 years ago. The original paper work we have for this line is not dated.
The front of the original paper booklet that came with a frying pan and two saucepans reads: "Corning Ware a pyroceram product" - "FRY BROIL BOIL BAKE FREEZE and SERVE ALL IN THE SAME DISH." Inside are recipes and descriptions of the different sets you could have purchased. Corning shows a picture of a square skillet imbedded halfway in a block of ice and the other half being heated by a blow torch. The idea is that this is an astounding product of the space age. Made of a new material, Pyroceram, that was first used in the nose cones of guided missiles. "The coldest cold or hottest hot in cooking can;t hurt it, even though Pyroceram has the appearance and feel of fine china." We have only had one item actually marked "Pyroceram," which was a small skillet. Pyroceram must be the oldest mark on the Blue Cornflower line. Most pieces are just marked Corning Ware or Pyrex, with items in the late seventies being marked microwave safe.
The booklet also refers to this pattern as "Blue Cornflower." There are a variety of items you could purchase, such as the saucepan with clear lid,
which doubled as a casserole dish. The black plastic handle was attached when the dish was used as a saucepan on top of the range. It detached "with a twist of the fingers" when you wanted to use it in the oven or broiler. The skillets were not as deep and came with a clear lid and a black plastic handle. Once in a while, if you are lucky, you may find a large skillet with a white lid and the Blue Cornflower design on it. These are very hard to find. Other common pieces that you will find with ease are the tea and coffee pots. Remember to look for the insides of the coffee pot if you want to perk your coffee.
The Blue Cornflower pattern abounds in thrift shops, flea markets and garage sales at very reasonable prices. There are a few pieces, however, which seem a little harder to locate, but are worth hunting out. These are the meat tree, square roaster, 3 cup teapot and the 1 qt. measuring-mixing bowl with three pour lips and a detachable handle. There is also a tea pot which I can only describe as a heavy bottom teapot. It is very unique looking with a narrow top and a very squat bottom. We have only had one.
The cookbook "Culinary Arts Institute Microwave Cooking," 1977, by Consolidated Book Publishers, shows the Blue Cornflower serving tray and pie pan on page 17.
There is one other Blue Cornflower pattern we should mention. It is the Centura line of dinnerware by Corning. This is the forerunner to Corelle. We have only one plate in Centura and it has the same Blue Cornflower pattern as the bake ware. It is much heavier than the Corelle ware and breaks much easier.
We believe this pattern of dinnerware and cookware is worth collecting.
Webmaster's Note: This article was taken from the publication "Glass and More, May 1999" with permission from the publisher, Dr. Leonette Walls.