Fenton Art Glass Company - Final Auction
by David Adams
One of the last remaining Glass Manufacturers in America has finally reached the end of the road. Fenton Art Glass Company, of Williamstown, West Virginia has announced its closing and has scheduled an auction for May 24, 2012 to dispose of all of the company's assets.
The Sale Assets to be offered for sale at the Auction include the following:
List of all Wholesale Dealers

The Company's rights in the following Companylogo and trade names

"Fenton"
"Fenton Art Glass"
"Fenton USA"
"Fenton lnternational"
NOTE: These trade names and logo may at the time of the Auction be subject to certain limited rights of a third party under a limited License Agreement, which License Agreement the Company will agree to assign to the successful Qualified Bidder.

The Company's rights in unique product names or colors, to include

"Favrene"
"Lotus Mist Burmese"

Molds and shapes [seven or more lots]

Tools

Crimps, snaps and hand tools used with molds.
Presses, blower stands and finishing benches associated with molds

Exclusive glass formula [three to seven lots]
Fenton owned many molds that they purchased from other glass companies. These moulds were also part of the Auction, and the table below lists the inventory.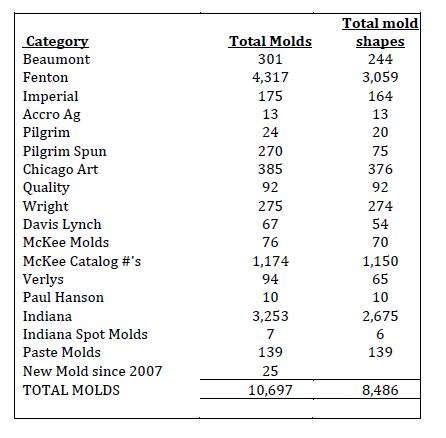 THE FENTON TIMELINE STEEPED IN TRADITION
Webmaster's NOTE: The following timeline was taken from the official Auction announcement document.
For over 100 years, the vision of Fenton family members, together with their passion for glassmaking, has sustained The Fenton Art Glass Company and its organization. Each person contributes special talents to the team effort of glassmaking. We make quality glass, by hand and in keeping with the great heritage of craftsmanship in the American glass industry.
1905 Frank L. Fenton and his brother John W. Fenton start the Fenton Art Glass Company in rented space in Martins Ferry, Ohio.

1906-07 The Fenton factory is built in Williamstown, West Virginia. The first piece made on January 2, 1907, is a crystal cream pitcher with a Water Lily and Cattails pattern. Jacob Rosenthal is the factory manager and glass chemist.

1907-08 Fenton introduces its innovative "iridescent ware," a popular-priced alternative to expensive products from Steuben or Tiffany. Other American glassmakers soon introduce competitive products, and this glassware dominates the marketplace for nearly a decade.

1924-26 A group of four skilled glassworkers from Europe create dramatic art glass treatments such as Hanging Hearts while employed at Fenton.

1929-30 In operation for about 25 years, Fenton Art Glass boasts that it now produces more than 25 different glass colors, ranging from traditional transparent hues to unusual opaque colors.

1936-37 As other glass plants perish during the Depression, Fenton maintains its business by producing bowls for companies making electric mixers and by producing special bottles for firms that make cologne and perfume.

1939 Baskets, Cranberry glass, crested ware, and the Hobnail pattern all debut in the late 1930s

1940-45 Unable to obtain glassware from overseas, many American importing companies turn to Fenton to have glassware made especially for their needs.

1948-49 Fenton introduces its Diamond Lace pattern, designed by company president Frank L. Fenton.

1952 Milk Glass Hobnail becomes Fenton's flagship pattern. Years later, Bill Fenton fondly recalls Hobnail as "our bread and butter" line.

1960-69 Fenton introduces a range of popular transparent colors -— Colonial Amber, Colonial Blue, Colonial Green, and Colonial Pink.

1969 Fenton and Cracker Barrel begin a business relationship.

1970 After years of trials and experiments, Fenton reintroduces Carnival glass. Items are marked with a distinctive logo, the word "Fenton" in script type within an oval.

1980-1989 The first Connoisseur Collection is offered in 1983. Throughout the 1980s, Fenton's Milk Glass, Burmese and Rosalene colors continue to rise in popularity.

1986 George W. Fenton becomes President, and he remains at the helm today. Bill Fenton is named Chairman of the Board, and Frank M. Fenton retires to the position of Historian.

1988 Fenton appears on QVC with Bill Fenton as the first on-air guest. Today, on-air guests include other family members.

1993 Fenton introduces the first items in its "Family Signature Series," starting a tradition that continues in today's product line.

1994 Fenton's Showcase Dealer Program begins with 235 dealers. Today there are more than 1,000 Showcase Dealers nationwide.

1996 The premier issue of Glass Messenger, a quarterly newsletter for Fenton collectors, is published. A Roselle on Cranberry Basket is offered as the first Subscriber Exclusive.

2000 Fenton celebrates the company's 95th anniversary; www.fentonartglass.com is launched.

2002 Fenton publishes its first book, Fenton Glass: Especially for QVC.

2004 ln anticipation ofits centennial year, Fenton publishes a coffee table book, FENTON: Handcrafted American Glass Artistry.

2005 Fenton turns 100 on May 4, 2005! Fenton Centennial Celebration in Williamstown ]uly 31 - August 2.

2012 Fenton turns 107. Company announces closure. Auction on May 23, 2012.